Thinking about visiting the Malaysian east coast island of Tioman and wondering what the best resort in Tioman Island is?
We have you covered with our best Tioman Resort guide!
Tioman Island is a gorgeous island located in a large marine park that is known for its aquatic life and amazing snorkelling, diving and jungle trekking. It's not highly developed, and it's a quiet, slower pace of life which is just made for vacation time.
If you are looking for a great location that is easy to get to with lots to enjoy just a short distance from both Singapore and Kuala Lumpur, then Tioman is a great choice for you.
The first thing on your mind after deciding to visit Tioman will no doubt be where to stay in Tioman Island and what Tioman Island accommodation is right for you.
In this Tioman Island resorts guide, I will provide you with all the information you need to make this decision. The good news is that there is a great range of places to stay in Tioman Island from Pulau Tioman cheap accommodation to luxury resorts and all offer access to what makes Tioman so special – great beaches, underwater aquatic life and jungle!
Below, you will find our recommended list of the hotels in Tioman Island, Malaysia. I start by comparing the beach resorts in Tioman based on location, star rating and price then describe all the areas so you can work out your best place to stay in Tioman Island. Finally, I review each of the best hotel in Tioman Island recommendations and show you where they are on a map.
So, let's start! Here's your guide to the resorts at Tioman Island!
Comparison Of The Best Resorts In Tioman Island Malaysia
Where To Stay In Tioman Island
There are five main areas that cater to tourists which you are likely to consider for your Tioman Island trip, although you can also find some resorts in Pulau Tioman at other places around the island.
In working out which area to stay, I recommend you think about how much activity, eating and drinking choices you want around you. When it comes to beaches – they're all gorgeous – just some more so then others.
Salang
Salang village is located on the northwest side of the island and is the perfect choice for where to stay in Pulau Tioman if you love gorgeous beaches with aqua water and great snorkelling.
If you're after a great range of hotels in Pulau Tioman at different budgets, a resort at Salang Tioman is a good choice. They have some cheap hotels in Tioman Island and a Salang beach resort Pulau Tioman offers can have better deals for the budget conscious. However, none of the top resorts in Tioman are located here and you'll find better quality and value choices elsewhere.
There is, however, a wider range of food options here than elsewhere on the island and some good souvenir shops too.  There are also diving schools here if you are wanting to get your PADI certification.
This village is popular with westerners and there is more nightlife here than elsewhere on the island (but note that this island is not somewhere to go for nightlife) and is where you'll find the backpacker budget hotels in Tioman Island area.
Air Batang (ABC)
ABC is also located on the north western side of the island and has a good mixture of some Tioman beach resort options while remaining a quiet village. The beach isn't as good as other options here though.
There are some cute bars and restaurants. You'll also find some of the cheap hotels in Pulau Tioman here. In fact, if you are after Tioman Island cheap accommodation option, you may love the camping option here or dorms. It is a more upscale area than Salang.
As with much of Tioman Island, there is wildlife roaming here, particularly monkeys and monitor lizards. So don't leave your food out!
Read our full guide to ABC Beach here.
Tekek
Located on the west coast, Tekek village is another solid choice. This is the main village on the island and it is located just south of ABC in a central location.
In general, there are not as many good accommodation options here if you are looking for cheap Tioman resorts and hotels, but there is the Berjaya Tioman Resort to the south which is one of the best options for a resort at Pulau Tioman.
There are some diving and food options here as well as an ATM and a small airport (not currently used). This is also the place for shopping with souvenir and duty free shops.
Remember that everything is low key on this island though – there are no huge shopping malls!
If you need a doctor, this is also the place to head.
Paya
Paya is a quiet beach area located just south of Tekek.
There are small waterfalls close to here as well as a three hour track across the island to Juara.
There are some restaurants and a few Pulau Tioman resorts and hotels.
Juara
Located on the east side of the island, this is the best area to stay in Tioman Island for quiet relaxation. It can feel isolated to the rest of the island being the only main village on the east coast but is quite easy to reach thanks to a road from Tekek.
The beach is beautiful, perhaps the best on the island and is good for surfing during the monsoon. There are some great Tioman Island hotels and resorts in this little stretch. However, this isn't the best area for divers and snorkelers and you'll need to travel elsewhere on the island for the best spots. It is good for rock climbers thanks to some great cliffs with varying difficulty levels.
There are a few restaurants here as well as a small village with a primary school.  The area is popular with couples and families.
Read our full guide to Juara Beach here.
Top 12 Options For The Best Resort In Tioman Island, Malaysia
Below are our reviews for each of the top 12 hotels on Tioman Island.
Situated on the western side of the island, the Berjaya Tioman Resort is a four-star resort surrounded by miles of golden beaches and clear waters. This Tioman Island best resort is located around 2.5 kilometres from the Tekek Village and offers guests a place to escape from it all.
This Tioman Island luxury resort provides guest accommodation in stunning, spacious, Malay style chalets. Each chalet is fitted with lovely wooden furnishings and includes air conditioning, TV, tea and coffee making facilities as well as sea or garden views from their own private balconies.
Most of the chalets at this best resort Tioman offers can accommodate up to two guests in one double bed. There are, however, bigger rooms which have four single beds or even two bedroom chalets which are perfect for families or groups of up to four people.
Some rooms at this Tioman accommodation could do with an upgrade. I recommend not booking the cheapest room type for a better chance of a quality experience. We loved our junior suite.
There are numerous facilities and things to do at this Pulau Tioman best resort. Facilities here include two restaurants, a beach bar, free wifi in common areas, gym, tennis courts, children's playground, day spa and two swimming pools including a children's pool with waterslides and another pool with a sunken swim-up bar.
The beach bar is highly recommended at sunset.
Guests can also go snorkelling, diving and this Pulau Tioman beach resort also has its own 18 hole golf course! You can also arrange activities from the tour desk including boat charters, island hopping, jungle trekking, island tours, ATV rides and stand up paddleboarding.
Best Parts?
When it comes to Tioman hotels – this one has numerous activities and facilities on offer!
Worst Parts?
Some rooms need renovating. The food is hit and miss in the restaurants (but there are restaurants right outside the front gates).
Summary?
The Berjaya Tioman Resort is a lovely resort located in a gorgeous beach setting with numerous activities to keep everyone in your group entertained. Perfect for those looking for spacious accommodation or a Tioman family resort that is located on a main road, so it's easy to visit more of the island.
Click here for more information and the latest prices or read our full review here.
Tunamaya Beach & Spa Resort is a stunning resort Tioman Island offers, located on the southern tip of Tioman Island. The resort is on a gorgeous secluded beach with clear water surrounded by a 1000-year-old lush tropical rainforest and mountains.
This hotel Tioman Island offers features accommodation in 54 air-conditioned villas, with each Tioman Island villa including TV, tea and coffee making facilities and private balconies with stunning views across the rainforest or beach.
There is a range of great facilities at this Tioman Island beach resort including a restaurant, bar and day spa and the island's only infinity pool. Directly from the beach, guests can go snorkelling and have the chance to see a range of marine life including coral, sea urchins, turtles, fish and even reef sharks.
Other activities guests can do at this Tioman stay include jungle trekking, pizza making and batik making.
Tunamaya Beach & Spa Resort can be reached by taking a 2-hour ferry ride from Tanjung Gemok Jetty and then a second boat trip from Genting. If you are already on the island, the resort is either a short 15-minute ferry ride from Genting Village or a 30-minute boat ride from the Tekek Airport.
Best Parts?
If you're looking for one of the Pulau Tioman hotels with an idyllic setting – this is it!  The resort is surrounded by a stunning stretch of beach and gorgeous lush mountains. Add this place to your Pulau Tioman Island resort list for the ultimate getaway location.
Worst Parts?
Unfortunately, here they don't have a Pulau Tioman villa large enough to accommodate families or groups of more than 3 people. Also, the fact that this is one of the more isolated hotels Tioman Island has is a downside (also a pro!).
Summary?
As stated in the Tioman Island resort review above, the Tunamaya Beach & Spa Resort provides lovely villas in one of the most picturesque settings. This is definitely one of the recommended Tioman Island hotels for those wanting to relax as well as having a few activities on offer.
Click here for more information and the latest prices.
If you're looking for Pulau Tioman budget accommodation on the east side of the island, consider Juara Beach Resort. This is a two-star property offering guests affordable Pulau Tioman accommodation.
Accommodation at this resort in Tioman Island Malaysia is provided in 28 wooden chalets which are built on stilts in the traditional "Kampung" style. The air-conditioned chalets are located in either the garden or beachfront. There is a variety of different chalets able to accommodate a range of group sizes right up to five people.
Facilities at this resort at Tioman Island includes a Chinese restaurant which has great vistas of the beach. Other activities include snorkelling, kayaking, swimming and jungle trekking.
Best Parts?
This is one of the top 10 hotels in Tioman Island for spacious accommodation, suitable for families and large groups at a great budget rate.
Worst Parts?
Being a two-star property, the rooms are a little on the older side – don't expect a Pulau Tioman luxury resort, this is simple and affordable accommodation – fine if you're not after a Tioman 5 star resort.
Summary?
For travellers looking for simple budget accommodation on Tioman Island, whilst still wanting a stunning location, be sure to put Juara Beach Resort on your Pulau Tioman resort list.
Click here for more information and the latest prices.
Located a short 5-minute walk from the Paya Beach Jetty, the Paya Beach Spa & Dive Resort sits on a stunning stretch of the central western shores of Tioman Island. At this accommodation in Tioman Island, you will find sandy white beaches, clear turquoise water and coral reefs just waiting to be explored.
There is a range of great accommodation options at this resort. Standard chalets can accommodate either two to three people as bed configurations are either one double or one double and a single bed.
This is a great choice for larger groups after the best beach resort in Tioman Island as you can stay in chalets with two large beds or for that added bit of luxury, stay in a beachfront room which is located only steps away from the beach. The beachfront villas can accommodate up to six people which is ideal if you're looking for the best place to stay in Pulau Tioman for large groups AND on the beach.
All chalets and villas at this Tioman Island beach hotel include air conditioning, a private balcony, TV, seating area and tea and coffee making facilities.
One thing is certain; if you're looking for the best hotel in Tioman Island, Malaysia that has plenty of things to do, this hotel won't disappoint! Facilities at Paya Beach Resort include two swimming pools, day spa, children's playground, restaurant, beach bar and grill and PADI Dive Centre. Other activities guests can participate in include snorkelling, swimming, banana boat rides, beach volleyball, kayaking, ATV adventures, yoga and jungle trekking.
Best Parts?
There are so many great activities to do here – you will never get bored—definitely a great choice for the best hotel in Pulau Tioman in terms of things to do.
Worst Parts?
Wifi can be a bit of a hit and miss, so if this important to you make alternative arrangements.
Summary?
If you're looking for a 4 or 5-star hotel in Pulau Tioman, definitely add the Paya Beach Resort to your Pulau Tioman resort list.
Click here for more information and the latest prices.
Located in the island's south-west, the Japamala Resorts By Samadhi is designed and built around the resorts natural landscape which includes 11 acres of lush tropical rainforest.
Japamala's wooden chalets, hillside sarangs and beachside villas mirror the serenity of the surroundings in their design and decor. Each room at this best hotel Tioman Island has can accommodate up to two people and provides the comfort of air-conditioning, Wi-Fi, TV, mini-bar and espresso machine.
If you're after a touch of indulgence, this is one of the Tioman hotels and resorts which has private plunge pools and wooden sun decks in some of the rooms. This is the perfect resort for couples looking for secluded paradise.
Activities available at the resort include scuba diving and snorkelling, boat excursions, jungle trekking and relaxing on the private beach. There are two a la carte restaurants on site, a traditional Indonesian/Malaysian and Italian.
This Tioman best hotel also offers complimentary all-day breakfast, outdoor swimming pool,  turndown service, afternoon snack, laundry service and use of their kayaks.
Best Parts?
The romantic seclusion amongst pristine tropical rainforest and elegant chalets make this one of the best Tioman beach resorts.
Worst Parts?
Families are unfortunately not accommodated here – no children under the age of 16 are allowed to stay at the resort.
Summary?
If it's one of the Tioman Island luxury hotels or a honeymoon destination you are looking for, this best Tioman hotel is a must for your consideration. Relax and unwind and enjoy the luxurious surroundings.
Click here for more information and the latest prices.
Hidden away on the east coast of Pulau Tioman, The Barat Tioman Beach Resort sits directly in front of Juara Beach, voted as No. 21 of the most beautiful beaches in the world. This hotel Pulau Tioman offers is located on 5 acres of sprawling beachfront property 2 kilometres from the city centre.
Here you can swim, kayak, surf, stand up paddleboard, fish, snorkel or scuba dive, or take a trek to the tropical rainforest and discover the local wildlife. The hotel has an all-day beachfront restaurant and a rooftop bar with beach views. Other amenities at the best resort Tioman Island include an outdoor pool and a recreation centre offering activities like fishing, windsurfing, diving, cycling and darts.
There are various room options here suitable for between two to four people. Standard rooms have one double bed, while the family rooms have two double beds. All rooms feature a balcony with pool views, flat-screen TVs, minifridges and tea and coffee making facilities. Kids aged 5 and under stay at no cost with an adult. If you're after somewhere in Tioman, where to stay for added luxury, book one of the seafront chalets or spacious bungalow with sea views.
Best Parts?
Whilst not necessarily a Tioman Island 5-star resort, this resort offers first-class amenities and activities galore perfect for a family or couple getaway.
Worst Parts?
Wi-Fi is only available in the public areas, not the rooms. So if this is important to you, look at one of the other hotels in Tioman-Island that offers this.
Summary?
This luxury resort Tioman offers has great affordable accommodation (including family accommodation) on one of the worlds most beautiful beaches. This is a fantastic resort for anyone looking for the best accommodation in Tioman at a great price.
Click here for more information and the latest prices.
If you are looking for more budget hotels Tioman offers for the family; The Selesa Tioman Apartments is an older 3-star apartment resort with amazing views of the South China Sea. Located just south of the Berjaya Tioman Resort reviewed above, the SELESA is quite secluded and takes about 25 minutes to drive from the Tekek Jetty.
The fully furnished two bedroom apartments are the perfect option for families or larger groups. There are also smaller apartments suitable for smaller groups and couples. Each apartment includes a living room and kitchenette, which comes with a rice cooker, microwave and mini-fridge. The apartments also include air-conditioning and private balconies with sea or garden views.
At this Tioman Island resort apartment complex, guests can relax by the swimming pool or head out on a snorkelling or full day fishing trip. There is also motorcycle or bicycle hire available to head out and enjoy the local surrounds and, if you are keen, find your way to the nearest town Tekek to do some shopping.
Best Parts?
Good choice if you're a family after the best hotel in Tioman Island Malaysia on a budget.  It has good views and friendly staff.
Worst Parts?
Quite a bit older than other resorts in the area and the Wi-Fi reception is quite poor.
Summary?
If you are happy to forego modern luxuries and still enjoy the local surrounds, the Selesa Tioman Apartments is the best place to stay at Tioman Island for families wanting a relaxing home away from home.
Click here for more information and the latest prices.
Located in Air Batang, the Tioman Dive Resort is another one of the best hotels in Tioman for those on a budget. The budget hotel is closely connected to B & J Dive Centre a five-star PADI Diving education centre, in ABC Bay. This means this is one of the best hotels in Tioman Island for divers as it caters to those taking diving courses, although the general public is also more than welcome to stay.
The rooms at Tioman Dive Resort are modern and are available in twin, triple and quad configurations. Each of the rooms includes air-conditioning, TV and refrigerator. It is a quiet, peaceful location, perfect for relaxing, even if you aren't interested in the diving courses.
There is a bar on site but no restaurant. However, there are several different food options nearby along with shops and other resorts all within easy access.
Best Parts?
This is the best resort in Tioman Malaysia for keen divers and those wanting to gain their PADI Diving qualifications.
Worst Parts?
No dining options on site.
Summary?
Whether you are looking for the perfect spot for a diving holiday or just a peaceful location to relax, the Tioman Dive Resort offers great accommodation. The resort is friendly, clean and well located – just a stone's throw from a bar, restaurant and several nature trails. It is the perfect detox from city life!
Click here for more information and the latest prices.
The Minang Cove Resort is located at Kampung Paya, a 10-minute boat ride from the Genting Jetty. This resort is a haven for scuba divers from around the world looking to dive the flourishing coral reefs. There are many private areas around the resort for relaxing and enjoying the breathtaking views, including the private beach and jetty.
This is one of the best places to stay in Tioman Island for those looking for a more intimate resort.  This Tioman Island boutique hotel only has 12 chalets and 2 traditional Malay villas. Most of the rooms are suitable for up to two people with the family room able to accommodate up to 4 people with 1 child under 2 able to stay for free if using existing bedding.
All accommodation features a private balcony overlooking the sea, air-conditioning, seating area, tea and coffee making facilities and a refrigerator.
The onsite restaurant opens for all-day dining and serves local and international cuisines. There is also a beach bar serving a variety of refreshing beverages. A variety of activities are also offered at the resort including jungle trekking, snorkelling and island tours.
For families, children's entertainment includes a children's television network, outdoor play equipment, books, DVDs and board games or puzzles. There is also a child-minding service at extra cost.
Best Parts?
This small boutique resort Tioman Island offers is fantastic for couples and families alike, offering affordable accommodation in a stunning setting.
Worst Parts?
It's one of the older style Tioman places to stay and there's not a lot nearby if you feel like exploring the local area.
Summary?
Minang Cove is a gem of a resort.  It is the perfect mix of intimate and laid-back, well-kept and beautiful. While not a Pulau Tioman 5-star resort, this is perfect for travellers who prefer a quiet and intimate resort over the large, flashy luxury hotels in Tioman Island.
Click here for more information and the latest prices.
Aman Tioman is a 4-star resort surrounded by a beautiful beach and lush rainforests. It is located 100 metres from Kampung Paya Jetty (only 3 minutes' walk) and only 200 metres south of the Paya Beach Resort reviewed above. Here you can explore the rich, natural rainforest and discover the various flora and fauna of the island.
Surrounded by healthy and rich coral reefs, this accommodation Tioman Island Malaysia offers attracts those who love to dive whilst on holidays. The resort provides professional diving instructors and special packages for divers of all different levels of experience. Other activities guests can participate in include jungle trekking, fishing and snorkelling.
There are three restaurants onsite to choose from and an in-house coffee bar. The Tioman hotel resort also has a small swimming pool.
For accommodation, there are 135 modern guest rooms suitable for either two, three or four people. Each room includes air-conditioning, a balcony with outdoor furniture, flat-screen TV and tea and coffee making facilities.
Best Parts?
Accommodation options for all different group sizes as well as the easy access from Kampung Paya Jetty.
Worst Parts?
The swimming pool is pretty small, so if this is important to you best to stay in one of the other Tioman Island beach resorts.
Summary?
The Aman Tioman Beach Resort is one of the newest resorts in the Paya Village and is a great option for those on a diving holiday. Due to large room sizes, it's also one of the ideal Tioman Island beach hotels for families.
Click here for more information and the latest prices.
Situated directly on the beach, 1511 Coconut Grove provides simple traditional accommodation towards the end of Juara Beach.
Accommodation is provided in traditional villas complete with stilts, thatched roofs and private balconies. These villas in Tioman Island are simple yet provide amazing beach and sea views and come with air conditioning, desk, and wifi. Bedding configuration is either a queen bed or twin or there is a family room with two bedrooms which includes one queen and two single beds.
Onsite you will find a restaurant and bar which receives rave reviews from the resort's guests.
Best Parts?
Lovely traditional beachfront style rooms.
Worst Parts?
Limited onsite facilities – no swimming pool.
Summary?
If you prefer the simple things in life, 1511 Coconut Grove may be just the resort you are looking for. Providing simple traditional accommodation on the beach, you will no doubt leaving feeling refreshed.
Click here for more information and the latest prices.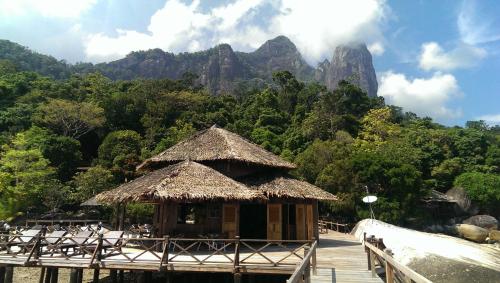 Bagus Place Retreat is one of the 3-star, all inclusive hotels in Tioman Island with direct access to the beach and clear crystal waters. It is located on the southern part of Tioman Island (not far from the Minang Cove Resort reviewed above), which is relatively unspoilt and blessed with an amazing view of Twin Peaks mountain.
There are only ten chalets on site which are all constructed from natural materials, so they beautifully integrate with the natural environment. Each of the chalets includes conveniences such as air conditioning, fridges and coffee makers, plus balconies with amazing sea views.
The cosy chalets with French doors and the sound of the ocean as you sleep, make this one of the best hotels in Tioman Island Malaysia for a relaxing or romantic getaway. If you are visiting with family or a larger group, be sure to book the Boat House or two bedroom chalet both suitable for up to five people.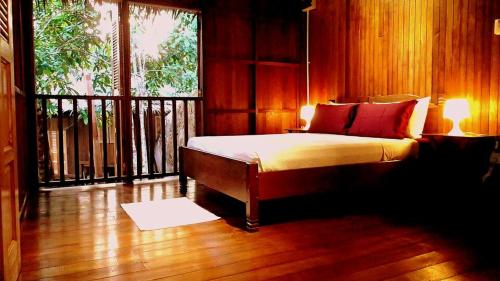 Onsite, guests can enjoy a variety of activities. Indulge in a massage, borrow a book at the library, enjoy a drink at the Dragon Bar or eat authentic Malaysian cuisine at the on-site restaurant.
Other activities include snorkelling off the jetty, snorkelling safaris, sightseeing by speedboat, jungle treks, visit the local fishing village or sit back and relax by the beach.
Best Parts?
The beautiful surrounds with so much to do – or not to do – depending on how you like to relax.
Worst Parts?
A little on the pricey side, however, the seclusion and scenery make up for it. It is somewhat isolated.
Summary?
The perfect hotel to relax and unwind and think about nothing else. A family atmosphere and welcoming staff really make your stay.
Click here for more information and the latest prices.
The Melina Beach Resort is a family-friendly eco-resort situated in a secluded, private beach in Tioman Island.
The resort provides guests with comfortable and rustic accommodation, surrounded by the tranquillity of nature. The beach itself is surrounded by rainforest and blessed with vibrant coral reefs. 
This lovely resort offers guest accommodations in simple, air conditioned chalets that come with a mosquito net, and stunning views of the sea, or lush greenery. Chalets come with a private bath and shower.
Guests can also ask the staff to assist them in fun activities like hiking, snorkelling, and diving. After a tiring day, they can unwind at the resort's spa. 
The resort also offers complimentary two-way shuttle services to and from Paya Jetty. Other facilities include an on-site bar and restaurant, cafe, sun terrace, garden, and massage services (at the additional cost.)
Best Parts?
The resort's location is perfect for anyone who needs to unwind and relax in a beautiful, tranquil setting. The private beach is gorgeous as well. 
Worst Parts?
Location wise, it's a bit far. You need to take a 5-minute boat ride to Paya Beach where there are relatively more activities at night. 
Summary?
Overall, this is an ideal getaway- an unspoilt location away from the hustle and bustle of the city. Great atmosphere as well. The staff are friendly and attentive to guests' needs. 
Click here for more information and the latest prices.
Map Of The Options For Best Hotel In Tioman Island
So what's your choice of the best resort in Pulau Tioman? Let me know in the comments below!
Click here to find our list of things to do in Tioman Island once you arrive, our guide to how to get to Tioman here or find our complete Tioman Island guide here. You can also read our guide to the best Tioman Island packages here.
Sharon is an Australian who has fallen in love with Malaysia! She explores Malaysia multiple times a year, often with her kids, and has previously lived in Penang.