With its 22 kilometre stretch of beautiful coastline and fabulous beaches, Desaru Beach, Malaysia is perfect for a holiday away from it all.  Unlike other areas of Malaysia, the area is not bustling with tourists or filled to the brim with a stack of must do attractions, rather the area has an untouched feel to it and seems to attract local tourists looking for a quieter type of getaway away from the crowds.
Apart from the various gorgeous Desaru public beach options, there are a few attractions and activities to keep visitors entertained.  There is also a  fabulous Golf and Country Club as well as some fantastic first class resorts.
If you have been thinking about a holiday to Desaru Beach, then this is the perfect guide for you.  In this guide, we cover everything you need to know when planning a Desaru holiday.  The guide includes suggestions for the best beach resort in Desaru, as well as tips on things to do in the area and how to get there.
After reading this guide, all you'll need to do is book your Desaru beach resort, pack your bags and be on your way to a wonderful relaxing holiday in Desaru Beach.
Where is Desaru Beach?
Desaru Beach is located at the southern end of the east coast of Malaysia facing the South China Sea.    It's just a 90 minute car ride from Singapore or just over an hours drive from Johor Bahru.  Given it's proximity to Singapore, Desaru Beach is a very popular holiday destination for Singapore tourists.
The nearest airport to Desaru Beach is either Senai International Airport in Johor or Changi International Airport in Singapore.
Find out more about getting to Desaru Beach here.
Best Time to Visit Desaru Beach
Like most of the coastal destinations in Malaysia, Desaru Beach is highly seasonal.  The monsoon season is between November and February which sees winds and rain – however there is still plenty of sunshine so you'll still see plenty of visitors around during these months.
The most popular season to visit Desaru Beach though is from June to August – this is prime time for Desaru Beach activities.  However to avoid the busiest times April and May, or September and October are ideal times to visit.
The Best Beach Resort in Desaru Options
As mentioned above, despite being a quieter holiday destination in Malaysia, Desaru Beach is well known for some wonderful first class resorts.  Below I've provided some brief information about some of the more popular options for the best Desaru Beach Resort.
Click here for our full guide on where to stay in Desaru 
Address: Lot 1854, Jalan Desaru, Bandar Penawar, Johor
The Lotus Desaru Beach Resort & Spa is a destination in itself with family activities and a luxurious spa on-site. Located in the Kota Tinggi district, it's hard to miss this 3.5-star Desaru Beach Hotel with its distinctive fairytale-castle look.
At the Lotus Beach Resort Desaru hotel, the rooms are apartment-style. Options include spacious one bedroom suites right up to a huge three-bedroom penthouse. All rooms have air-conditioning, free WiFi and kitchenettes.
Read any Lotus Desaru Beach Resort review and you'll see that the best part about staying here are all the facilities.  There is a huge Splash Park that has water-feature playgrounds, a lazy river and a lagoon-style pool.  Or if the waterpark isn't your style, there is also a separate swimming pool.  Other activities include table tennis, beach volleyball, tug of war and paintball.
In terms of on site restaurants at the Lotus Desaru Beach Resort and Spa, there is a seafood and Indian restaurant, a cafe and Beach Hut Bar with table-side barbecue.
Click here for more information and the latest prices.
Address: 81930 Bandar Penawar, Johor
The Tunamaya Beach & Spa Resort Desaru hotel has 134 rooms, each with clear views of the water.  Room options include suites or suites with 2 bedrooms and are spacious, including air conditioning, TV, free WiFi and a refrigerator.
The Tunamaya Beach Resort Desaru hotel has a stack of great facilities to keep guests entertained.  There is a large outdoor infinity pool, a gym, a kids' playground and a high-ropes adventure course. You can sing karaoke at the indoor lounge or appreciate the sea breeze while you sip a drink at the Beach Bar.
The Desaru Tunamaya Beach Resort offers a range of places to eat and drink on the property including a Thai restaurant, seafood restaurant and bar.
Click here for more information and the latest prices.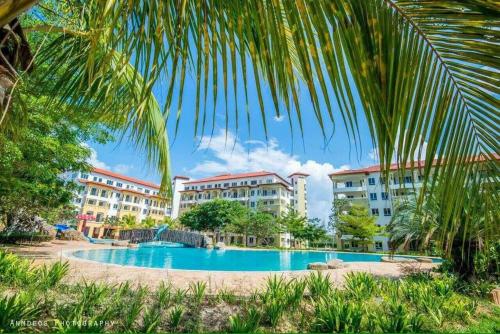 Address: Tiara Desaru, Jalan Tanjung Lompat, Bandar Penawar, Johor
Tiara Desaru Beach Resort is a 3-star resort in Desaru Beach Johor Bahru vicinity located on the beachfront.  There is a range of room options for all different holidaymakers including studios, family suites as well as fancy penthouses.  All Tiara Beach Resort Desaru hotel rooms have free WiFi and air conditioning.
The resort offers a range of great facilities including a gorgeous infinity swimming pool and a golf course.  You can also rent bicycles, play tennis and ping pong, and there is also a children's play area with board games and puzzles.  On-site is a coffee shop, restaurant and convenience store.
Click here for more information and the latest prices.
Address: Jalan Desaru, Bandar Penawar, Johor
The Sand & Sandals Beach Resort (previously known as the  Pulai Desaru Beach Resort & Spa) is a contemporary development nestled on Desaru's beachfront area. Every room of Pulai Desaru Beach Resort Johor is beautifully furnished and equipped with excellent amenities.
At Sand & Sandal's, guests can either stay in the garden and sea/pool rooms, loft rooms or presidential suites. All rooms include air conditioning, cable TV, tea/coffee making facilities, and a private balcony.
The hotel recreational facilities include a private beach area, outdoor pool, spa, and a fitness centre. Other facilities include complimentary WiFi internet access, a taxi service, a souvenir shop, and 24-hour security on the property.
Overall, the resort's proximity to Desaru, its fantastic amenities, and its friendly, and helpful staff are some of the main reasons why you should stay in Pulai Spring Desaru Beach Resort.
Click here for more information and the latest prices.
The Desaru Golden Beach Resort
Address: P.O. Box 50, Tanjung Penawar, Kota Tinggi, Johor
Desaru Golden Beach Resort is nestled in an unspoiled beachfront on Malaysia's southeast coast.
Guests can choose to stay in either one of the villas or hotel rooms. All rooms are provided with air conditioning, hot shower, TV, telephone, WiFi, and tea /coffee making facilities.
Activities at the resort include outdoor sports such as mountain biking, jungle trekking, and several beach activities like windsurfing, and jetskiing.
Golden Beach Resort Desaru also features an in-house restaurant that overlooks the sea. Guests can grab a cocktail, and dance at the Blue Horizon Lounge, or wind down at the Sunrise Coffee House.
Other amenities include an outdoor, and children's pool and free on-site parking.
Whether you're staying here for leisure, or business, or both your stay at Desaru Golden Beach Hotel is definitely worth remembering.
Click here for more information and the latest prices.
The Pulai Desaru Beach Resort (Formerly Desaru Perdana Beach Resort)
Address: No. 20km, Jalan Pontian Lama, Pulai, Johor
Surrounded by lush tropical greenery, the Pulai Desaru Beach Resort (formerly the Desaru Perdana Beach Resort) offers you panoramic views of the South China Sea, and modern comforts and facilities that are international standard.
All of its hotel rooms and suites come with air conditioning, cable TV, telephone, mini-fridge, safety deposit box, en-suite bathroom, tea/coffee making facilities, WiFi, and a key card system.
For golfing enthusiasts, the Desaru Golf and Country Club is just 5 minutes away from the property. Guests can also enjoy a variety of water sports activities in the resort such as snorkelling, parasailing, diving, jetskiing, and so much more.
The resort also offers an in-house cafe and restaurant. Moreover, there's a sunset bar or lounge where guests can wind down and watch the glorious sunset after a long day. There is also a massive free form swimming pool complete with a shallow baby pool area.
Click here for more information and the latest prices.
Address: Kota Tinggi, Tanjung Balau, Desaru
Pelangi Balau Resort is found in the city of Kota Tinggi. There are several tourist attractions in the area, like Desaru Beach, which is approximately 5 km from the property.
Rooms are clean and spacious, offering guests with utmost comfort. All rooms include air conditioning, free WiFi, a work desk, tea/coffee making facilities, and an en-suite bathroom.
The Pelangi Beach Resort Desaru also offers a wide range of facilities such as an in-house restaurant and a large swimming pool that has waterslides that overlook the sea.  There's also a 24-hour front desk available, free WiFi, laundry service, and self-parking with surcharge.
Click here for more information and the latest prices.
The Best Things to do in Desaru Beach
If you can pull yourself away from the fabulous facilities at your Desaru Beach Resort chalet or from the stunning Desaru Beach, there are a few great places to check out while you're staying here.
Of course the number one thing to do here is to relax at Desaru Beach. With 22kms of coastline to choose from, there are no crowded beaches here!
Visit Dash Outdoors on the beach for some watersports.
Cool down at the Desaru Coast Adventure Waterpark.
Go shopping at Desaru Riverside.
Learn about tropical fruits at Desaru Fruit Farm.
Get a close encounter with an ostrich at the Ostrich Wonderland.
Play a round of golf at the Desaru Golf and Country Club.
Take a Desaru Firely Cruise.
Visit the Tanjung Balu Fishing Village and Musuem.
Click here for more information about the above things to do in Desaru Beach.
Hopefully you found this complete guide to a holiday at Desaru Beach helpful.  You can check out our guide on catching the ferry to Desaru here.  If you're looking for other Malaysia holiday destination ideas click here.