Heading to Johor Bahru (JB) and wanting to book the best budget hotel in Johor Bahru? Excellent! In this article, we will help you do just that with our list of the best budget hotels Johor Bahru offers below!
Johor Bahru is a great destination for travellers looking for a cheap hotel in JB. The hotels in general are very good value and there are many options at the budget end. So whether you are looking for the best value budget hotel in Johor Bahru city centre, a budget hotel in JB Sentral or the absolute cheapest hotel in Johor Bahru, Malaysia located anywhere then we have you covered!
Below, we don't just have a Johor Bahru budget hotel list, but we also have a comparison table so you can quickly compare the locations and prices of all the best cheap hotel Johor Bahru options. We then show you all the cheap accommodation in Johor Bahru on a map to help you pick the best options.
When reading through this, it's worth remembering that Johor Bahru is quite spread out, so if you don't have a car, it's especially important to pick a cheap hotel at Johor Bahru close to where you want to be. So if you are just heading to Legoland, pick a hotel near there. If you are using JB as a base to explore Singapore, pick one of the cheap hotels in Johor Bahru near causeway or a cheap hotel in Johor Bahru near City Square.
If you don't want to waste any time and simply want the best budget hotel Johor Bahru in a great location, click here and book the Baguss City Hotel now.
Otherwise, let's start! Here are your options for a budget hotel at Johor Bahru!
Comparison Of Each Budget Hotel In Johor Bahru Town
Note: Prices for each cheap and good hotel in JB do vary depending on factors such as the number of people and the season. The prices in the table above are only a rough estimate to help you compare. Click the book buttons above (or click here) to get the latest prices. 
List Of Best Budget Hotels Johor Bahru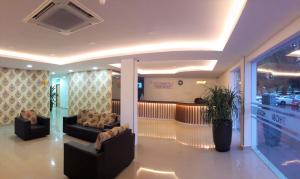 Map Of Each Cheap Hotel In JB
We hope you found your perfect choice of the Johor Bahru budget accommodation. If you are visiting Johor Bahru primarily to visit Legoland, we recommend this list of hotels near Legoland. If you want more hotel options, find our list of the best hotels in Johor Bahru here. You can find all our Johor Bahru guides here.