Travelling to or from Senai Airport in Johor Bahru and need a hotel near Senai Airport? Excellent! We have all the best and closest options for a hotel near Johor Bahru Airport for you!
Senai International Airport is located away from central Johor Bahru so staying at the airport is an especially good choice for a late arrival or early departure. If you would like a budget hotel near Senai Airport you are in luck as there are many budget options nearby.
In fact, some hotels are within a couple of minutes walk from the terminal as the terminal itself is surrounded by shops, restaurants and a couple of hotels. You won't even need a taxi.
To help you pick your perfect hotel near Senai Airport, Johor Bahru, we don't just have a list of all your options below but a comparison chart so you can easily compare the prices and how far each Senai hotel near airport is away. This way, you can book your perfect choice in moments and be all set for your trip!
We also have a map of the hotels near Senai Airport so you can see for yourself exactly how convenient each option is.
If you don't want to waste any time and simply want the best hotel near Senai International Airport which is right by the airport, click here and book the SEM9 Senai hotel now. This is where I stay and it's comfortable and close.
Otherwise, let's start! Here are your options for a hotel or resort near Senai Airport!
Comparison Of Each Hotel Near Senai Airport
Note: Prices for each hotel near Senai Airport, Johor Bahru do vary depending on factors such as how far in advance you book, the number of people and the time of year. The prices in the table above are meant to only be a rough guideline to help you compare. Click the book buttons above (or click here) to get the latest prices. 
List Of Best Hotels Near Senai International Airport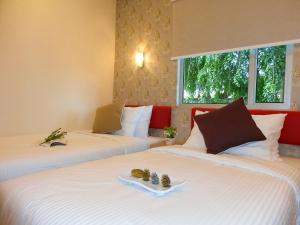 Map Of Each Hotel Near Senai Airport, Johor Bahru
We hope you found your perfect choice of the Senai Airport accommodation. If you want more hotel options, find our list of the best hotels in Johor Bahru here. You can find all our Johor Bahru guides here.