On your way to Kota Bharu and looking for a great budget hotel in Kota Bharu? Great! In this article, I go through all the best budget hotel Kota Bharu choices so you won't just save money, but you'll also have a nice place to lay your head.
Kota Bharu is a popular transit point for travellers on their way to Perhentian Islands or for business travellers. And the great news is that budget hotels in Kota Bharu tend to be really good value. If you have just come from Perhentian Islands, you may be surprised just how much cheaper and better value it is!
Kota Bharu itself is a nice city and there are some nice things to do here. So stopping over and seeing some of the city attractions is a good decision instead of rushing elsewhere.
There are many budget hotel options so working out which is the best use of your money can be tough! That is why below, you won't just find a budget hotel at Kota Bharu, Kelantan list but also a comparison chart so you can quickly compare the most important details of each hotel option to find your perfect fit. It compares prices, star ratings and more.
In addition to this, there is also a map of the hotel budget Kota Bharu options so you can quickly see where they are located to make sure they are convenient for your travel plans.
When reading through this, it's worth remembering that the Kota Bharu area is relatively spread out. For example, if you plan to see city attractions, you don't want to stay on the coast.
If you don't want to waste any time and simply want the best budget hotel in Kota Bharu in a great location, click here and book the Aslah Boutique Hotel now.
Otherwise, let's start! Here are your options for a budget hotel in Kota Bharu!
Comparison Of Each Budget Hotel In Kota Bharu, Kelantan [2023]
Note: The prices listed above for each hotel budget Kota Bharu, Kelantan option can vary. Exact prices depend on factors such as the day of the week, season and number of people. These prices are meant only as a rough estimate for comparison purposes. Click the book buttons (or click here) to get the latest prices for your dates. 
List Of Best Budget Hotels Kota Bharu
Here's a list of your best budget options in Kota Bharu…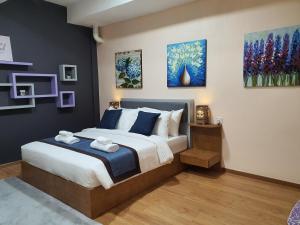 Map Of Each Budget Hotel Kota Bharu, Kelantan
We hope you found your perfect choice of a budget Kota Bharu hotel. Click here to find our list of all the best hotels in Kota Bharu or here for our full travel guide to Kota Bharu.
Planning a trip to Malaysia? Have any questions? Join our Malaysia Travel Planning Facebook group here now! It's the perfect place to ask any questions and to be inspired!