Travelling to Kota Bharu and looking for the best hotel in Kota Bharu for your needs and budget?
Great, we can help!
Kota Bharu is located on the northern part of the east coast of Malaysia and has some great low key attractions. It's also popular as a transit point on the way to Perhentian Islands, but it is worth spending a night here to take in the sights and to see a different part of Malaysia.
While there are no options for a 5 star hotel in Kota Bharu, what you will find are some excellent value best hotels in Kota Bharu town as well as some nearby options for a Kota Bharu beach resort.
In this article, we share all these options for best hotels in Kelantan, Kota Bharu so you can find your perfect choice. We start by comparing each option by price, star rating and main features before sharing a full review of each hotel at Kota Bharu and then showing you where they all are on a map.
Comparison Of Each Best Hotel In Kota Bharu, Malaysia
Top 10 Best Hotels In Kota Bharu
The Grand Renai is a 4.5-star hotel formerly known as the Renaissance Kota Bharu Hotel. For the business traveller, it's hard to beat the Grand Renai's convenient location in Kota Bharu's modern commercial and shopping district.
This hotel in Kota Bharu with swimming pool has over 298 spacious and modern rooms, ranging from 82m² executive suites to 32m² deluxe rooms. Family rooms are also available. All rooms have minibars, air conditioning, flatscreen TVs and free high-speed WiFi. The hotel provides two executive floors with a lounge, business centre, meeting rooms and a grand ballroom.
The Grand Renai is home to the largest fitness centre in town as well as the largest swimming pool (outdoors). You can use the steam rooms, sauna, Jacuzzi and fitness equipment in the gym after a day of work or sightseeing.
Click here for more information.
Three restaurants are on-site, including a Chinese restaurant and a restaurant that offers all-day dining, with local and Western offerings on the menu. Sunday through Wednesday, you'll find live entertainment in the lobby lounge during the evenings.
Best Parts?
Guests highly rate this hotel due to its friendly staff and clean rooms with comfortable beds. It has a host of amenities on-site, a convenient location next to a supermarket and shuttle service to the Sultan Ismail Petra Airport, which is 9.6 km away.
Worst Parts? 
This hotel was built in the year 2000, and it's showing some signs of age, but it's been getting updates to stay as modern as possible. The road outside is busy, so this isn't the best place to stay if you're looking for a quiet retreat.
Summary
The Grand Renai is a mid-range business hotel that has everything a traveller needs from a Kota Bharu, Kelantan hotel.
Click here for the latest prices.
The Grand Riverview is centrally located in the hotel area Kota Bharu, Kelantan. This 4-star hotel offers guests prime views of the Kelantan River, and it's an easy walk to business, shopping and cultural areas when you're a guest there.
The business-class Grand Riverview has 299 rooms. The largest ones are the 66 m² suites. You can also reserve a family room, a room with double twin or queen beds and other combinations.
All rooms have air conditioning, a bathtub and shower, minibar, coffee and tea maker and free bottled water. You can watch satellite/cable TV on the flatscreen TV in your room and use the fast, free Wi-Fi.
Click here for more information.
There are two restaurants and one cocktail lounge on-site. Guests can get some exercise at the outdoor pool and the fitness centre, and there's a path behind the hotel where you can enjoy a relaxing walk by the river. Popular restaurants are in walking distance as well.
Best Parts?
Guests love watching the sunset over the river from their rooms at this hotel. The option to book two interconnecting rooms is useful for friends or large families travelling together.
Worst Parts? 
The rooms, which all have carpets and decor that's a blend of traditional and modern styles, are a bit outdated. The TV reception in the rooms is sometimes unreliable for certain channels.
Summary
The Grand Riverview Hotel is a friendly place to stay where you can be close to the river as well as other main attractions of Kota Bharu.
Click here for the latest prices.
Hotel Perdana Kota Bharu, Kelantan, was the first premier hotel in Kota Bharu, and it's still one of the most luxurious hotels in the city today. After changing ownership in the 90s, a brand-new Executive wing was added to the multistory building. The older wing is now called the Classic wing.
This hotel has 272 guest rooms and suites. All rooms have free high-speed internet, air conditioning, flat-screen TVs and safes. Room service is available, and so is access to a 24/7 gym. Guests enjoy free breakfast at the excellent Hotel Perdana Kota Bharu buffet.
Click here for more information.
The hotel emphasises the rich Malay culture, with unique artwork and carvings integrated into its architecture.
Best Parts?
Perdana Hotel Kota Bharu has a swimming pool and children's pool on-site. It has a great location in the city centre that's within walking distance to several attractions, such as Stadium Sultan Muhammad IV. Guests also appreciate the comfortable beds and pillows.
Worst Parts? 
The rooms in the older Classic wing show signs of wear and tear, but the hotel is updating those rooms in phases. Some guests note that the soundproofing isn't very good in rooms that adjoined others.
Summary
For a luxury hotel experience that celebrates Malay heritage, reserve a room at Hotel Perdana Kota Bharu.
Click here for the latest prices.
Hotel Ridel Kota Bharu recently became part of the fast-growing OYO hotel chain. Some of its rooms have views of the nearby Kelantan River. Other rooms overlook the town, but the family rooms don't offer any views. The hotel clearly indicates the view each room has, so you'll know what to expect before you make a reservation.
Free Wi-Fi is available everywhere in this new hotel in Kota Bharu. All rooms have housekeeping services and air conditioning, and you can take advantage of the ironing service as well. The largest rooms available are family rooms that have two single beds and one large double bed.
Click here for more information.
The accommodations at this two-star-priced hotel are simple but clean and have everything you need for a pleasant stay in Kota Bharu.
Best Parts?
Guests love the central location. It takes about 10 minutes to get to attractions like Merdeka Square and Istana Jahar Museum. The majority of people who've stayed there consider the Ridel Hotel Kota Bharu in Malaysia excellent value for the money.
Worst Parts? 
The main issue that guests have with this hotel is the lack of designated parking for hotel guests.
Summary
The affordable OYO 752 Ridel Hotel in Kota Bharu has all the essentials in a central location.
Click here for the latest prices.
Jewels Hotel Kota Bharu was formerly known as the Habib hotel. All 32 rooms have free Wi-Fi and flat-screen TVs with Astro satellite channels. Jewels Hotel has a highly rated halal restaurant on-site, and the Siti Katijah market is in walking distance.
You can choose from three types of rooms: Superior, Deluxe and Suite. Superior rooms are standard. Deluxe rooms and Suites have larger TVs, king-size beds and more spacious rooms.
Click here for more information.
Jewels Hotel is a nonsmoking boutique hotel Kota Bharu.
Best Parts?
Guests love the restaurant as well as the central location that's only a five-minute walk to the National Museum.
Worst Parts? 
The parking lot is closed each evening to make room for a night market, so parking can be hard to find in the evenings.
Summary
Jewels Hotel offers clean and comfortable midrange accommodations in the centre of Kota Bharu. It's an excellent choice for business and leisure travellers alike.
Click here for the latest prices.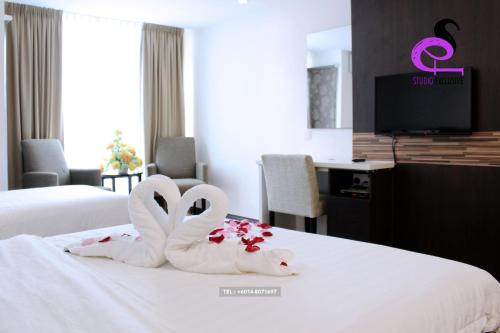 Studio Exclusive is located in the Kota Bharu City Point apartment building in the town centre. Each room is air-conditioned and has free Wi-Fi, a flat-screen TV and a hairdryer. Some rooms have a kitchenette, dining area and seating area.
Room service is available, and a self-service launderette and minimarket are on-site. Guests have access to free, private parking in the basement.
Click here for more information.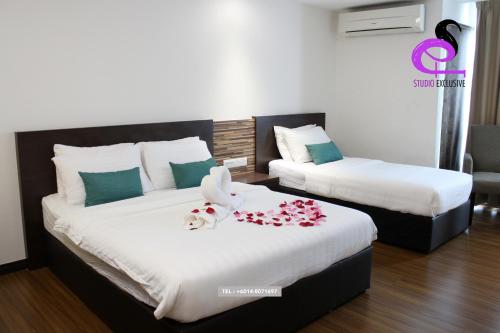 This hotel is in a super-convenient location that's close to AEON Mall Kota Bharu.
Best Parts?
Visitors love Studio Exclusive's location and spacious rooms.
Worst Parts? 
While this hotel has on-site parking in the basement, there is no direct lift from the basement into the facility. There is a lift inside the building, though.
Summary
Studio Exclusive offers spacious rooms in a strategic location that can serve every type of traveller well.
Click here for the latest prices.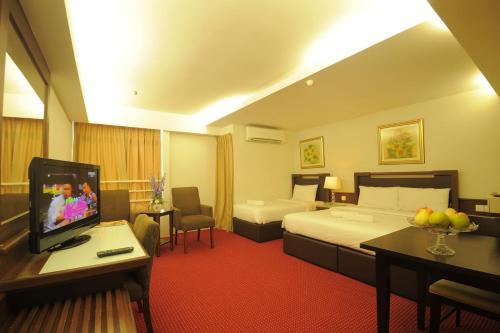 Hotel Khalifa Kota Bharu is located in walking distance to the city centre. This 4-star hotel features apartments and suites with modern decor. Some rooms have kitchenettes and are perfect for families. Rooms have daily housekeeping services, flat-screen TVs, air conditioning and free Wi-Fi.
Newcomers to Kota Bharu especially love the concierge services, and Muslim guests appreciate the mosque that's right across the road. The building has a lift to take you to your floor.
Click here for more information.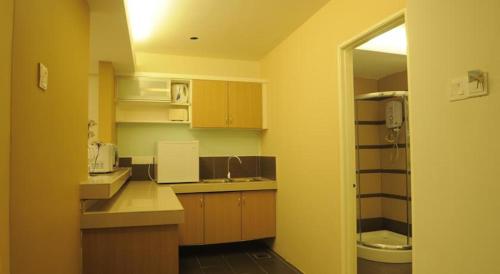 Some nearby sites to the Hotel Khalifa Kota Bharu include the Handicraft Village and Craft Museum, Istana Jahar Palace and the popular Siti Khadijah market.
Best Parts?
The central location is a big draw. And if you like to prepare your own food when you're travelling, you'll love a room with a kitchenette at this hotel.
Worst Parts? 
Free on-site parking is available, but it tends to fill up fast. However, you can find plenty of parking in the area around the hotel.
Summary
Khalifa Hotel Room Suite Kak Siti is rated very highly for its convenient location and clean, comfortable rooms.
Click here for the latest prices.
Tok Aman Bali Beach Resort in Kota Bharu is about 50km away from the city centre. This family-friendly resort has 100 spacious rooms. Guests enjoy bicycle rentals, local fishing and the outdoor swimming pool, and children stay entertained at the kids' club and playground.
Some luxuries you'll find at Tok Aman Bali Beach Resort include a sauna and hot tub. The resort is home to many restaurants including the Sutera Bayu Coffee House and Senja Di Thai.
Click here for more information.
All rooms at this hotel villa Kota Bharu have lagoon-facing balconies and free Wi-Fi.
Best Parts?
This resort has spacious rooms, a huge infinity-edged swimming pool and is close to a private white-sand beach.
Worst Parts? 
The most consistent criticism of Tok Aman Bali Beach Resort is that the breakfast choices are too limited.
Summary
Tok Aman Bali Beach Resort is a fantastic place for everyone, including business travellers, families and honeymooners.
Click here for the latest prices.
If you're looking for a hotel near Kota Bharu airport, check out the Golden Terminal Lodge. This smoke-free hotel recently partnered with the OYO hotel chain for a consistent customer experience.
It has 16 rooms with free Wi-Fi, rainfall showerheads, air conditioning and 32-inch flat-screen TVs with satellite channels.
Click here for more information.
You can expect to have free bottled water and a phone in your room at this Kota Bharu airport hotel.
Best Parts?
If you're a business traveller or otherwise need to be close to the airport, this hotel is hard to beat for convenience; the Kota Bharu airport is a mere 100m away. Free parking for guests is another valued perk.
Worst Parts? 
The Golden Terminal Lodge isn't within walking distance of local attractions. However, it's about a 10-minute drive to the State Museum and Pulau Kundur from there.
Summary
The Golden Terminal Lodge hotel near Kota Bharu Kelantan offers clean, basic rooms and a convenient location for travellers who need easy access to the airport.
Click here for the latest prices.
Tune Hotel Kota Bharu, Kelantan is an affordable place to stay right next to the KB mall. You can choose nonsmoking rooms with air conditioning or ceiling fans at this cheap hotel in Kota Bharu. This is an adults-only lodging. That's probably because the rooms are too small for families; they're about 14m2 in size.
All rooms are nonsmoking and have private bathrooms with hairdryers and walk-in showers. Flat-screen TVs and cable provide in-room entertainment, but internet access isn't available.
Click here for more information.
This hotel near Aeon Mall Kota Bharu has a lift that goes to the upper floors.
Best Parts?
The convenient location near the KB mall is a top draw of the Tune Hotel in Kota Bharu. A minimarket and other shops are also on-site. Staff is friendly, and check-in is a breeze. When you stay at this hotel near Tesco Kota Bharu, you can save money by picking up food at the market instead of eating at restaurants.
Worst Parts? 
Overall, people rate the cleanliness of the rooms as average. Even so, Tune Hotel Kota Bharu has a high rate of return guests.
Summary
Tune Hotel Kota Bharu is an excellent choice for singles or couples who need a simple, friendly place to lay their heads during a stay in Kota Bharu.
Click here for the latest prices.
Map Of The Best Hotels in Kota Bharu, Kelantan
You can see all the above options in our Kota Bharu hotel list on the map below.
Looking for things to do while you are in Kota Bharu? Read our full guide here. You can also find all our guides to Kota Bharu here.
Sharon is an Australian who has fallen in love with Malaysia! She explores Malaysia multiple times a year, often with her kids, and has previously lived in Penang.