Going on a Labuan trip and want to know all the best things to do in Labuan, Malaysia? We have you covered! Below you will find our guide to all the best attractions in Labuan to plan the ultimate trip.
Labuan is an island city of Malaysia, 8km off the closest point of Sabah and this tiny island is only 92sq km it is home to some of Borneo's most noteworthy landmarks. Only a 20 minute boat ride from Menumbok, a small fishing town in Sabah, it is also reachable by air-conditioned ferries from Brunei and Sarawak. You'll also find direct flights to the island from Kuala Lumpur.
Originally used as a base for the British to fight against piracy in the South China Sea, the island has a complicated history having been at one time owned by the Sultanate of Brunei, the British and Singapore.  Occupied by the Japanese from 1941-1945 it was finally liberated by the Australian 9th Division.  
These days, the island is a 'Federal Territory of Malaysia', with its own flag and national anthem, and is quite the secret paradise – with quiet streets, paradise beaches and stunning sunsets. …and not to mention, duty-free shopping and cheap drinks!
Many historical sites can be found across the island, with the somber Labuan War Cemetery the main point of interest, where over three thousand heroic souls lay at rest. Peace Park, reflecting the sorrow of the Japanese over their acute actions in WWII, is another poignant place to visit.  
Labuan is also culturally diverse with 6 major communities amongst its small population of fewer than 100,000 residents. Visit attractions such as the Gurdwara Sahib to learn about Sikh culture or mix with the Brunei-Malays by renting one of their water houses. Labuan has plenty of great cultural experiences to offer.
Marine life lovers and scuba diving fans will be drawn to Labuan too, with the island's unique underwater scenes such as the 4-shipwreck diving site near the Labuan Marine Park.
With a laid back and peaceful lifestyle, this is a great place to visit to escape the manic world, wade in the ocean, doze in a hammock or eat fresh fruit under gorgeous sunshine.
Below, you will find our Labuan things to do blog post with everything you need to know about the best places to visit in Labuan, Sabah. As well as exactly what to do in Labuan, Malaysia the post also covers the best place in Labuan to stay for your ultimate holiday in Labuan!! There is also a handy map of the interesting places in Labuan.
Travelling to Borneo? Click here to download your FREE Detailed Borneo Itinerary. We'll help you plan your trip quickly and easily.
Have any questions? Join our Malaysia Travel Planning Facebook group here now! It's the perfect place to ask any questions and to be inspired.
Top 16 Things To Do In Labuan, Malaysia
Here are the best things to do at Labuan. Read through and select the ones that fit your interests and timeframe.
Walk Into A Tropical Paradise In Labuan Botanical Garden
Just 5 minutes drive from town, Labuan Botanical Garden is the best place to visit in Labuan if you are travelling with young children. Beautifully landscaped, you can easily spot exquisite tropical plants and flowers such as hibiscus, orchids, ferns, palms, heliconias, banyan trees and also a sensational herb garden. The onsite free-entry recreational park has a children's playground, water features, skate ramp, gazebos and bridges across its two lakes. Nicely shaded, this is a perfect spot to spend an afternoon.
Besides the botanical features, Labuan Botanical Garden is also part of the city's valuable history. A government house once stood here but was completely destroyed during WWII.  Today, you can only see a damaged water tank and there are a couple of graves in the park that date back to 1847, thus history enthusiasts will find this place fascinating.
Address: Jalan Okk Abdullah, 87000 Labuan, Wilayah Persekutuan Labuan
See The Main Sikh Temple In Labuan: Gurdwara Sahib
If you are familiar with the Golden Temple in Amritsar, India, you will easily see the resemblance at Gurdwara Sahib. This handsome building was first constructed in 1950 as a wooden structure by Indian Sikh migrants, who were moved here by the British in the 1860s to work as coal miners or policemen. The building was subsequently rebuilt in 1997 into today's white double-storey brick design with three glittering golden domes, heavily based on the Golden Temple.
Visitors can roam around the interior, viewing a large assembly hall and kitchen, plus there are rooms available for Sikh visitors or those in need. Note, you are required to place a small cloth over your head during the visit. 
Gurdwara Sahib is definitely the most majestic Labuan tourist attraction.
Address: 708, Jalan Okk Abdullah, 87000 Labuan, Wilayah Persekutuan Labuan
Honour The Lost Soldiers Of War In Labuan War Cemetery
During the Japanese invasion of Borneo in WWII, thousands of soldiers – mainly from Australian, Indian and British troops – were lost. Upon the end of WWII, Labuan War Cemetery was opened in December 1945. Dedicated to these fallen heroes, it is currently maintained by the Commonwealth War Graves Commission.
Almost 4,000 heroic soldiers are buried here – many sadly unnamed – making the Labuan War Cemetery the largest of its kind across Malaysia. A quiet place to reflect, the cemetery is beautifully landscaped with tranquil surroundings and is the best Labuan place to visit for reminiscing over this heartbreaking moment in history and the atrocities of war.
Address: Jalan Tanjung Batu Road, 87000 Labuan, Labuan Federal Territory
Travel In Time By Visiting The Labuan Clock Tower
Another historical landmark within the city is the Labuan Clock Tower. Surviving WWII, though severely damaged, the clock tower was the only standing structure in the town after the onslaught by the Allied Forces to evict the Japanese. A few years later, it was completely demolished, but the local authorities reconstructed today's clock tower in 2002, at the same spot as it once stood, as a tribute to those who died during the war.
A small park is around the clock tower and it chimes appealingly on the hour and is lit up at night. 
Find time within your schedule to see this iconic Labuan, Sabah Attraction.
Address: Jalan Tanjung Purun, Bandar Labuan, 87000 Labuan, Wilayah Persekutuan Labuan
Explore Labuan's Rich Maritime Past In Marine Museum
Being an island city, Labuan is undoubtedly rich in both marine life and maritime history. Within this museum, you'll enjoy a hands-on and up close experience with local sea creatures, especially at the "touch pool" filled with unusual sea life such as sand sharks, starfish and stingrays.
And for those of you that have travelled to Labuan for diving the famed 4-shipwrecks, you should definitely make a stop here first. Exhibits and displays take you through the history and stories of the shipwrecks, making your dive experience a little more interesting. 
Address: Kompleks Sukan Air Antarabangsa Labuan, Jalan Tanjung Purun, 87008 Labuan, Bandar Labuan
Check Out The Most Historic Site In Labuan: Ramsey Point
Out of all the places of interest in Labuan, Ramsey Point is considered as the most symbolic. 
In 1846, when the Sultan of Brunei officially handed over Labuan to the British Crown, the ceremony was held at Ramsey Point. Later, in 1945, the Allied forces used the same location as a landing point, subsequently freeing Labuan from Japanese occupation. Naturally, both events are critical points in Labuan's history, making Ramsey point an iconic place to visit. 
Located on the beach, right next to the Maritime Museum, the 3-storey observation tower provides an extraordinary view of the sea and the local neighbourhood.  And don't forget to check out the plaques detailing the historical events.
Address: Labuan, Bandar Labuan, 87000 Victoria, Wilayah Persekutuan Labuan
Stay The Night In A Water Village (Kampung Bebuloh/Kampung Patau-Patau)
You'll find two water villages in Labuan, mostly lived in by Brunei-Malay.  Made up of wooden houses that are built on stilts and connected by wooden bridges, they form two unique kampungs ('village' in Malay).  Today, these villages are some of the most traditional modes of living across all of Malaysia. 
Spend time wandering around the villages on an organised tour or – to get the most authentic experience – we recommend spending a night here.  Many of the households are happy to host you at a very reasonable price, and surprisingly all of the houses are connected with water supply and electricity.  With spacious interiors you'll enjoy your stay here, surrounded by super friendly Malays, and can even taste some local delicacies!
Hanging out with locals in their own overwater homes is undoubtedly one of the coolest things to do in Labuan Island.
Address: Kampung Bebuloh Laut, 87000 Labuan, Wilayah Persekutuan Labuan
Relax At Any West Coast Beaches
Malaysia is a country blessed with an immeasurable number of pristine beaches. Though Labuan isn't famous for this, along its west coast you'll find several untouched beaches with sugar-like white sand and breathtaking panoramic views, all overlooking the South China Sea. 
Beaches are spotless and are lapped by crystal clear water. A perfect place to relax at, enjoy a nap in the shade of beautiful coconut trees, or just plunge into the turquoise water to cool down.
Sunset on a clear day looks magical from any of the beaches. The sun paints the entire sky orange and as it sinks into the horizon, the unobstructed view is just picture perfect!:
Meet Dozens Of Bird Species At The Labuan Bird Park
At the northernmost tip of Labuan, approximately 16km from the City, you will find the Labuan Bird Park. Housing over 580 exotic birds, mostly native to Borneo, look out for kingfishers, hornbills, sharma and more. 
Take a walk under their three domes for an up close experience, with birds flying freely around you.  Also, try to catch the live bird show, featured daily.  For those interested, there's also an information centre providing more details on birdlife in Borneo. 
Located near Labuan Chimney (see below), it's great to combine both places for a full day tour.
Address: 87000 Labuan, Labuan Federal Territory
Try To Solve The Mystery Of Labuan Chimney & Tour Chimney Museum
The mysterious Chimney is one of the most interesting places to visit in Labuan. This 32.5m tall chimney is believed to have been built in the early 1900s. There is nothing particularly remarkable in the design of the structure, yet its purpose has puzzled people for years!  
Some believe the Chimney was simply a ventilation shaft of the nearby coal mine, whilst others suggest it to be a beacon or a bell tower. …today, its purpose is still not fully defined.
Adjacent to the structure is the Chimney Museum, featuring the coal mining history of Labuan. This two-storey building exhibits mining artefacts found during archaeological excavations of the local area. Visitors can view coal mining equipment, remains of coal transportation trains, opium pipes and much more. It also features the original bricks used to build the chimney which were shipped all the way from Scotland to Labuan!  
A place of fascinating local history, this is a must stop when visiting the northern part of the island.
Address: Tanjung Kubong, Labuan
Enjoy Serenity At Peace Park
Having visited all the historic landmarks in Labuan, heavy with memories of the atrocities of war, a visit to Peace Park offers a sense of harmony. Built by the Japanese to express their genuine regret over the brutal war crimes committed by their forefathers during the invasion of Borneo in WWII, this memorial park offers solace. 
Built at a symbolic location, next to Surrender Point and near to where Japanese officers were prosecuted for war crimes, the park is well maintained with lush green gardens, an arched bridge and pillared gazebos around a lake.  
At the entrance, there is a stone slab written in both Japanese & English stating "Peace Is Best", which perfectly defines the repaired friendship and shared vision between the people of Malaysia and Japan. 
Funded heavily by the Japanese government, the park is a tranquil and lovely spot to truly soak up the serenity.
Address: Kampung Layang-Layangan, 87000 Labuan, Labuan Federal Territory
Visit The Spot Where WW2 Ended In Labuan: Surrender Point Memorial
Next to Peace Park is Surrender Point Memorial.  Here is where, in a formal ceremony of surrender back in September 1945, Lieutenant General Masao Baba from the Japanese forces handed over a sword to Australian Major General George Wootten. 
Located right at the beach, an information plaque tells the story of the ending of WWII in Borneo.  
Visit at dusk for a truly atmospheric moment – with nostalgic thoughts set to the gorgeous backdrop of a magically red and orange sunset across calm seas.
Address: Kampung Layang-Layangan, 87000 Labuan, Labuan Federal Territory
Learn More Of Labuan's History In Labuan Museum
Originally used as the British Administration Office in the 1950s, the Labuan Museum officially opened in 2004. 
The exhibitions on display are divided into two storeys, with the lower showcasing the chronological history of Labuan Island.  Artefacts, memorabilia and monetary pieces take you from when the island was a Brunei territory, to falling under the British Crown, through the Japanese WWII invasion, and to finally gaining independence in the 1960s. 
The upper level is dedicated to the socio-cultural aspect of Labuan. Visitors can see various cultural items such as musical instruments, wedding accessories and costumes from Labuan's 6 major local communities (Brunei Malays, Chinese, Kadazandusun, Kedayan, Indians and Sikhs) and how they harmoniously share their lives in this tiny island.
Though a relatively small establishment, it provides you with excellent historical and cultural knowledge of beautiful Labuan Island.
Address: Jalan Dewan, Bandar Labuan, 87000 Labuan, Wilayah Persekutuan Labuan
Have A Quick Stroll At Labuan Square
Sitting in the middle of Labuan Town Center is Labuan Square. This open-air grandstand is used mainly for town celebrations, performances, or sports events… so pay attention if you are travelling to Labuan during any major Malaysian holiday as you might catch a live show!
Labuan Museum, Financial Park Complex and Labuan Square are close to each other.  Combine a visit to the first two in the morning and rest up at the Square afterwards to relax and enjoy watching the passing locals.  
For those travelling by ferry, when leaving the island, this is a perfect spot for waiting outside of the ferry terminal.
Address: Bandar Labuan, 87000 Labuan, Labuan Federal Territory
Go Shopping At Financial Park Complex
Looking for a place to find some souvenirs or replenish travel necessities? Head over to the Financial Park Complex. 
Labuan's only established shopping mall, also known as Ujana Kewangan-UK Mall, here you will find major banks, supermarkets, pharmacies and international eateries such as KFC and Pizza Hut.
And, of course, don't forget to take advantage of Labuan's duty free status – with loads of bargains to be found here!
Address: Jln Merdeka, Financial Park, 87000 Labuan, Wilayah Persekutuan Labuan
Explore Under The Water In The Labuan Marine Park
Towards the southwest of Labuan Island are three secluded islands (Pulau Kuraman, Pulau Rusukan Besar and Pulau Rusukan Kecil) altogether forming the Labuan Marine Park. The most remarkable characteristic of the Park is without a doubt the famed 4-shipwrecks, that annually attract thousands of scuba diving fans.
Pulau Kuraman, the largest of the three islands, is the most developed – with two beaches, a proper jetty and several chalets.  Surrounded by hard coral, the island is a perfect spot for snorkelling, sunbathing, picnicking, and you'll also find some great jungle treks. 
Pulau Rusukan Besar is nearest to the shipwreck diving sites; thus many divers use this as a base.  And the smallest island, Pulau Rusukan Kecil, is undeveloped but ideal if you are looking for an untouched natural desert-island experience.  
Most visitors enjoy a day trip visiting each of the islands or diving at several of the 4-shipwreck sites.  Please note that if you are interested in camping, prior permission from the local authority is required.  Also, be reminded that fishing and anchoring are not allowed within the marine park and the best time to visit is between February and October.
Address: Labuan Marine Park, 87000 Labuan, Labuan Federal Territory
Tourist Attraction In Labuan Map
Best Place To Stay In Labuan
Being a small island, there are not too many hotels to choose from within Labuan, but the vast majority are surprisingly in great condition, offering a good level of facilities and accommodation. 
We have selected a couple of conveniently located, well-equipped hotels at various price points for your consideration.
The only 5-star property in Labuan, Dorsett Grand Labuan offers luxury hotel facilities such as an outdoor swimming pool, spa, sauna, gym and free speedy wifi in all areas. 
Located at the heart of the city centre, right by the waterfront, the hotel has multiple eating and drinking options from the brasserie to a grill and pasta option as well as both a lobby lounge and a pool bar.
Rooms are spacious and comfortable. Thanks to the hotel's excellent seafront location, most come with a panoramic view of the city and sea. There are also suite options for extra comfort. Rooms come in twin and king bed configuration.
Click here for the latest prices.
Located just outside the town centre about a 15 minute walk from the waterfront at Labuan Square, rooms at Hotel Labuan Point are not only spacious and modernly decorated, but they are also fully equipped with an ensuite bathroom, tea and coffee making facilities, LCD television, minifridges and air-conditioning.
Rooms come in king and twin configuration and have everything you'd expect from a quality mid-range hotel. 
The hotel offers airport shuttle services and free wifi in all areas.   
An open-air rooftop bar – Sky Garden Café – serves meals and drinks and has fantastic views across the city and out over the sea.  You can also eat in your room via room service.
Click here for the latest prices.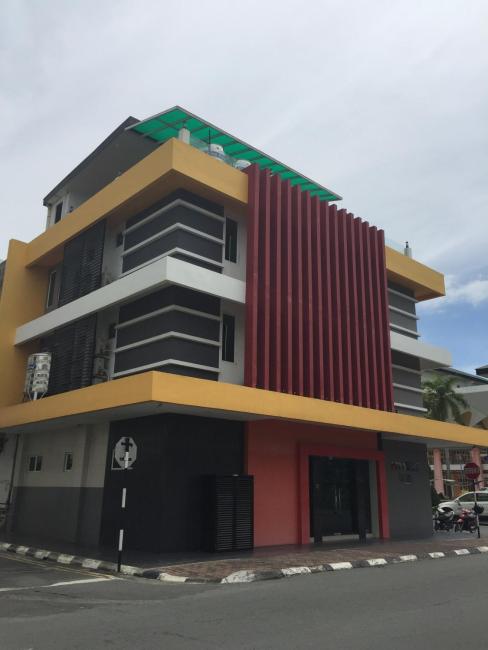 Standing only a couple of blocks away from Labuan Museum, the Premierz Hotel is surrounded by local eateries and is a convenient 10 minutes from the ferry terminal. 
Small but adequate, all rooms have ensuite bathrooms and are air-conditioned. Basic toiletries, a hairdryer and kettle are included in the room price but do take note that their modest-priced standard room has no windows. For those who are claustrophobic, you might want to top up slightly for a room with a city view. Family rooms are also available with 1 single and 1 double bed, suitable for a maximum of 3 adults or 2 adults and 1 child.
Click here for the latest prices.
You can also read our full guide to where to stay in Labuan here.
How To Get To Labuan
It's easy to get to Labuan by plane or ferry. Being an island, there are no roads to get here.
Daily flights to Labuan Airport are available via Malaysia Airlines, AirAsia, and MASWings from Brunei, Kuala Lumpur and Kota Kinabalu.
Ferries run regularly as well from Muara, Kota Kinabalu and Lawas. A boat journey from Kota Kinabalu to Labuan would take about three and a half hours.
To see all the latest flights and prices, click here.
If you'd prefer a ferry, click here to see the latest timetables and ferry prices.
Labuan With Kids
Are you wondering what things to do in Labuan Island with children? 
There are a couple of fun child-friendly locations, such as the Botanical Garden and the Bird Park. And for those travelling with older children, especially if they are interested in history, there are many historical places of interest and war stories to learn.
Scuba diving at the extraordinary shipwreck dive sites might not be the most child-friendly activity, however spending a day swimming, snorkelling and playing at the beaches in Labuan Marine Park will definitely bring a big smile to any child's face!  Do not hesitate to bring your children along on your next Labuan trip!
Final Words
Labuan travellers fall in love with the peacefulness of the island, chilling at pristine beaches and absorbing gorgeous sunset views, far off from mainstream tourism routes. There are also more serious visitors, who take their time, fascinated by the history and cultural diversity of this small island. And finally, there's the satisfactory smile of the marine-life lovers, returning from awesome wreck dives. 
This small island might not be the most famous, but it definitely doesn't disappoint!
Hopefully, you enjoyed this post on all the best things to do in Labuan. If you need help on how to get to Labuan read our guide on getting to Labuan from Brunei here or from Kota Kinabalu here. You can read all our guides to Labuan here.