Going on a Tawau trip and want to know all the best things to do in Tawau, Sabah? We have you covered! Below you will find our guide to all the best attractions in Tawau to plan your ultimate trip.
Known to be the third biggest city in Sabah, Tawau is located on Borneo's east coast. Although not as popular as other places in Malaysia, this underrated destination is still a charming place to visit. You'll be surprised by the number of things to do, and places to go to in Tawau.
From informative educational tours and fun treks to vibrant markets, in this guide we cover 13 of the top things to do when you're in Tawau, Sabah.
So don't just drive out of here on your way to Semporna, stop and enjoy.
Below, you will find our Tawau tourist attractions blog post which includes everything you need to know about the best places to visit in Tawau, what to do in Tawau, Sabah as well as the best places to stay for your ultimate holiday in Tawau!! We've also included a handy map of the interesting places in Tawau.
Travelling to Borneo? Click here to download your FREE Detailed Borneo Itinerary. We'll help you plan your trip quickly and easily.
Have any questions? Join our Malaysia Travel Planning Facebook group here now! It's the perfect place to ask any questions and to be inspired.
Top 13 Things To Do In Tawau, Sabah
Here are the best Tawau things to do. Read through and select the ones that fit your interests and timeframe.
Get Up Close With Nature At Tawau Hills Park
If you're looking for the best Tawau place to visit, Tawau Hills Park offers a perfect respite for the nature lovers out there. This 27,972-hectare park is approximately 24 kilometres, or 30-minutes away from town. 
One of the highlights of going to this park is seeing one of the tallest tropical trees in the world. If you want to know more about the park's flora and fauna, it's best that you hire a guide. 
The park also features camping sites, hiking trails, and a picnic area for daytrippers. You can try climbing the 1,312 metre-high Mt. Magdalena. If you have some extra stamina left, you can also hike both Mt. Lucia and Mt. Maria.
Birdwatching is also a popular activity at the park – both casual and serious bird watchers can spot many species of Bornean birds in the area.
Address: 91000 Tawau
Take A Dip At Table Waterfall
Another must-go place is the Table Waterfall, also known as the Glass Hill Waterfall, located in Tawau Hill Park. You can opt for a refreshing dip here after a long hike, rest, and picnic in one of the huts, before you make your way to the return journey.  Definitely, a good place to go if you're looking for fun adventures in Tawau.
Address: Tawau Hills Park, 91000 Tawau
Have Time For Relaxation In Tawau Hotspring
Tawau Hotspring is a great place to take a dip if you want to take a breather and relax after a day of tiring activities. Immerse yourself at the natural hot springs, and forget about all your worries. 
This site was founded 50 years ago initially as a picnic place for families. It's not that popular thanks to having an entry fee, but that makes it all the better if you do come up here.
Address: Tawau Hot Spring, 91000 Tawau
Learn More Of Cocoa Processing In Teck Guan Cocoa Museum
Tawau is actually one of the biggest producers of cocoa in Malaysia. That's why you should definitely drop by at Teck Guan Cocoa Museum, known to be heaven for these homegrown chocolates. 
Located 20-30 minutes away from Tawau City, advanced bookings are required to visit the Cocoa Museum. Once you arrive, a guide will walk you through the museum as you learn more about cocoa history, visit the cocoa sampling kitchen, and its processing factory. 
You can also purchase chocolate soap bars and handwashes at the Museum, as well as taste the chocolate version of the famous onde-onde (otherwise known as "Buah Melaka,") one of Malaysia's best desserts. 
Address: TB6853, Batu 2, Jalan Tanjung Batu Laut, 91000 Tawau
Visit The Teck Guan Cocoa Village
Nestled in Quion Hill, and approximately 20-30 minutes from the city, visit this cocoa plantation while enjoying nature's beauty. As well as being home to the Cocoa Museum, where visitors can also go for a hike at Cocoa Cultural Spring, stopping by the stunning 75 foot-high Majestic Waterfall. 
The village is also one of the few places in the world where you can see the distinctive Columnar Basalt rocks. 
Address: Quion Hill Miles 15 Balung Apas, 91000 Tawau
Check Out The Maliau Basin Conservation Area
Maliau Basin is a lush, unspoiled rainforest that features a breathtaking 7-tier waterfall and is rich with flora and fauna. Over 80 species of orchids have been recorded in this area, most of them newly discovered. It's out of the way and amazing. It's the best place to visit nature in Sabah if you really want to get away from it all and discover primeval wilderness.
The basin itself is a 25 kilometre wide depression filled with rainforest. It's the best place in all of Borneo to experience primary rainforest, and one of the best places in the world to experience a huge amount of biodiversity.
Bask in the scenery of Maliau Falls, and the surrounding areas. If you're lucky, you might also get a glimpse of the banting, sun bear, deers, and Sabah's other amazing wildlife.
If you're a nature lover and love trekking, you won't want to miss this. Not many people visit here and you'll feel like you've gone back in time in the best possible way.
You can buy discounted tickets for this attraction by clicking here.
Shop At Pasar Tanjung Tawau (New Central Market)
If you're looking for the best, dried seafood, head to Pasar Tanjung Tawau, also known as the New Central Market.  This 3-story market has a number of stalls inside that sell almost anything – from fresh vegetables, sea and agriculture produce, dried seafood, pots, clothing, to toys. 
Overall, this is a great stopover if you wanted to buy souvenirs, and dried seafood at a bargain price.
Address: Bandar Tawau, 91000 Tawau
Grab Your Morning Coffee At Kedai Kopi Mui Lok
If you're looking for the perfect breakfast spot, Kedai Kopi Mui Lok is a favourite hangout spot in Tawau which offers diners a great selection of bread, coffee, and tea at affordable prices. It also serves one of the best roti khawin in town, a local snack made of Kaya (egg and coconut jam) and butter, which is sandwiched in bread.  
They serve delicious snacks and dinner here.
Address: 2, Jalan Kuhara, Taman Semarak, 91000 Tawau
Explore The Beauty Of Masjid Bandar Tawau
Head over to Masjid Bandar Tawau, a mosque that was built in 1963, making it the oldest mosque in the city. This beautiful mosque is also known as Masjid Waqaff Ahmad Bin Daing Mapata. It's conveniently located in the main city district near hotels, restaurants, and shopping centers in the area. 
Alternatively, you can also visit Masjid Al-Kauthar Mosque, Sabah's largest mosque, which offers lovely views of the Cowie Straits.
Address: Jalan Masjid, Bandar Tawau, 91000 Tawau
Enjoy The Sunset At Tawau Waterfront
If you want to catch the Sabah sunset, head over to Tawau Waterfront. Located on the main road of Jalan Persisiran, this is definitely one of the best spots to go to catch this magical moment – golden sunsets that are framed in a seemingly endless horizon. 
Here, you'll also find a recreation park for children and a couple of chairs. 
As well as being a popular hangout place for both locals and tourists, the west portion of the waterfront is a fishing port where fishing vessels manned by local fishermen would come and go, with their daily catch. 
Address: Jalan Persisiran, 91000 Tawau
Eat Great Seafood
Tawau is known for its seafood, and you need to try it when you are here!
A good place to head is between Jalan Chen Fook and Jalan Persisiran to the east of Jalan Nusantara. Good View Restaurant is a place you could try, or there are more located behind them.
Look where the crowds are and take your pick.
Go Trekking At Bukit Gemok Forest Reserve
If you love hiking, Bukit Gemok Forst Reserve is an untouched Borneo jungle which offers you lush flora and fauna, and an abundance of wildlife. Depending on your fitness level, it will take approximately an hour for you to reach the hill, with seven resting huts along the way if you ever need to catch your breath. 
After your hike, don't miss the longest canopy walkway in Sabah that spans 231 metres. From here, you have a breathtaking view of Tawau town, its gorgeous coastlines, and the area surrounding it.
Address: Jalan Merotai – Tawau, 91000 Tawau
Island Hop Around Semporna
Although I've listed it last, this is actually my favourite thing to do near Tawau.
The islands around Semporna are stunningly beautiful, and it's possible to day trip to Semporna (about 1.75 hours away) to enjoy these islands.
There are many snorkelling and diving tours that take you to a range of spots and islands which you can enjoy. Here is a link to the day tour I did with some great stops at Timba-Timba Island (pictured above), Mataking and Pom Pom Island.
The islands are gorgeous and the marine life, even better. This is some of the best snorkelling I have experienced anywhere.
You can read our full guide to Semporna island hopping here or our guide of travelling between Tawau and Semporna here.
Tawau Attraction Places Map
Best Place To Stay In Tawau
When it comes to choosing the ideal accommodation in Tawau, there are a wide variety of hotels in the area that you can stay, no matter what your budget is. 
Below, I've listed some of the best options that you might want to consider, whether it's a budget, mid-range or more high-end accommodation. 
This hotel offers business class accommodation to guests and is located adjacent to the Eastern Plaza Shopping Center, Tawau's largest shopping centre. It's just outside the centre of town, but you can be anywhere you need to be quickly. 
Borneo Royale Hotel also features rooms and suites that offer free WiFi, TV, tea/coffee making facilities and safes. Meanwhile, suites feature sitting areas and minibars. 
Guests staying here can also enjoy other amenities such as the outdoor pool, hot tub and sauna, fitness centre, meeting room, and its cafe.
Some rooms could do with a renovation though.
Click here for the latest prices.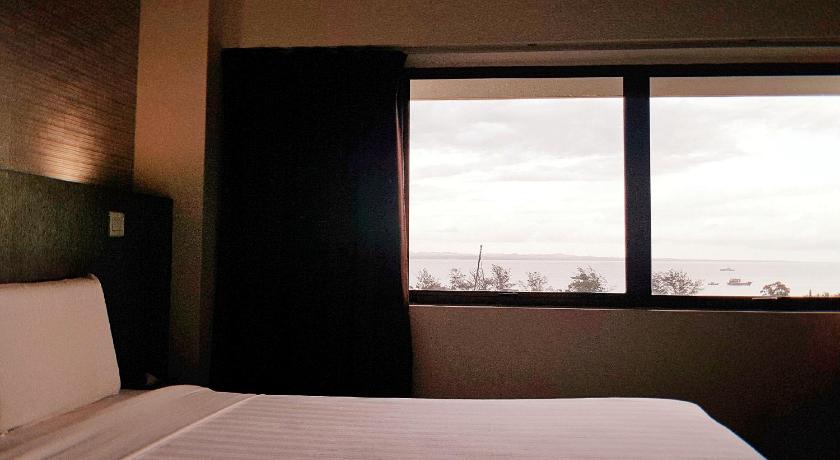 If you're looking for a great mid-range accommodation option in Tawau, then the Check Inn Hotel is a great place to stay. It's just a few blocks from the waterfront with everything you need around you. It's especially convenient for visiting the delicious seafood options near the waterfront.
There is a range of room types depending on your budget and needs. These range from budget singles without windows to executive rooms with sea view. If you are a family or triple, there are also rooms for you.
All rooms are clean, compact and comfortable, but basically the more you pay, the nicer the appearance of your room too. I stayed in an executive sea view room, and I was happy with it.
All rooms include flatscreen TVs, complimentary coffee, closet, free good WiFi access, and air-conditioning. The property also has a 24-hour front desk and housekeeping services. 
Click here for the latest prices or click here to read my full review.
This 3-star hotel is located in the very heart of the city centre. Guests who want to go shopping can easily head to the Tawau Tanjung Market and eat in the evenings at the seafood options above. The hotel is also just 30 minutes away from the famous Tawau Hills Park.
The property features well-appointed rooms and you can choose between standard and deluxe options. Some come with a sea view with the hotel being only a couple of blocks from the waterfront.
Rooms offer WiFi, desk, flat-screen TVs, air-conditioning, bottled water and tea/coffee making facilities.
There's luggage storage available.
Click here for the latest prices.
How To Get To Tawau
It's easy to get to Tawau by plane, bus, or car ferry. If you have your own car in Sabah, great! You are good to go.
Regular flights to Tawau Airport are available via Malaysia Airlines and AirAsia from Kuala Lumpur and Kota Kinabalu. While MASwings flies to and from Sandakan and Tarakan (Indonesia).
Daily buses operate from Kota Kinabalu, Lahad Datu and Keningau. A Kota Kinabalu bus trip takes nine hours. For a boat journey, ferries connect in Indonesia from Nunukan/Tarakan and take an hour to four hours travel respectively.
If you need to take a bus, click here for the latest timetables and bus prices.
If you'd prefer a car ferry, click here to see the latest ferry timetables.
To see all the latest flights and prices, click here.
You can also find our dedicated guide to how to go from:
Tawau With Kids
Tawau is a great destination to visit with your kids. 
Kids can enjoy the wide range of activities we've mentioned above, especially the Tawau Hills Park which allows them to reconnect with nature, and get to experience Sabah's fascinating wildlife. You can get a friendly and knowledgeable guide at the park as you go on nature walks. 
Similarly, kids will equally love the Teck Guan Cocoa Museum as they learn educational information on how cocoa is produced in Tawau, from a raw cocoa bean to cocoa butter or powder.  You'll get to sample delicious cocoa refreshments at the museum as well, such as the cocoa popcorn, homemade chocolates, and the signature cocoa drink. 
Final Words
Serving as the primary transit town for picturesque islands found on Sabah's southeast coast, Tawau has a unique charm of its own and is one of Sabah's more underrated destinations. 
So, whether you're just planning a day trip or staying here for a couple of days, you'll see that there are plenty of things to see and do in Tawau. 
Know exactly how to get to Tawau from Kota Kinabalu here, all the best hotels in Tawau here or find our full travel guide to Tawau here.
Planning a trip to Malaysia? Have any questions? Join our Malaysia Travel Planning Facebook group here now! It's the perfect place to ask any questions and to be inspired!