Going on a Sepilok trip and want to know all the best things to do in Sepilok? We have you covered! Below you will find our guide to all the best attractions in Sepilok to plan your ultimate trip.
The most famous place to see orangutans in their natural habitat, Sepilok may be the best place to go in Malaysia if you want to quickly and easily have some amazing wildlife experiences without even working up a sweat. I love it here!
Right next to Sandakan, Sepilok can be forgotten as a base for travellers when it shouldn't be. The best Sandakan attractions are arguably located in Sepilok along with some great places to stay on the edge of the rainforest here.
Sepilok is a quick 25-minute drive from the airport and a much better place to explore this region than Sandakan in my experience. You'll feel like you've got away from it all and can have a brilliant Sabah experience easily in Sepilok while still being able to visit anything you want to see in Sandakan as well.
Below, you will find our things to do Sepilok travel blog with everything you need to know about the best places to visit in Sepilok, exactly what to do in Sepilok as well as the best places to stay for your ultimate holiday in Sepilok! There is also a handy map of the places to visit in Sepilok.
Travelling to Borneo? Click here to download your FREE Detailed Borneo Itinerary. We'll help you plan your trip quickly and easily.
Have any questions? Join our Malaysia Travel Planning Facebook group here now! It's the perfect place to ask any questions and to be inspired.
Top 9 Things To Do In Sepilok
Here are the best things to do in Sepilok. Read through and select the ones that fit your interests and timeframe. You can also find our guide to Sandakan here if you have time for more activities.
Visit The Famous Sepilok Orangutan Rehabilitation Centre
You won't want to miss a visit to the Sepilok Orangutan Rehabilitation Centre to see Sepilok's most famous residents.
The Sepilok Orangutan Rehabilitation Centre was established to rehabilitate orphaned and injured orangutans so that they can return to the wild. The centre is built within a reserve, and lucky visitors can often observe released orangutans in their natural habitat.
While it was established to help orangutans, it's also a great place for humans to visit with information on orangutans and close to guaranteed sightings of these magnificent creatures.
Your visit to the centre begins with a 15-minute video introduction that shares important and interesting facts about the adorable orangutans, how the organisation works and what to look out for during your time there. The video is played throughout the day at various times.
Next to this is a small exhibition space about the orangutans that's worth taking a look at as well. I can't get enough of the photos of baby orangutans! This is open earlier than the rest of the centre, so if you find yourself here a little early, head into here and then be ready for the first showing of the film at 9am.
Next up, it's the feeding platform. This is the highlight of any visit. At 10am and 3pm daily, fruits, such as bananas, papayas, mangoes, and jackfruits, as well as sugar cane, are on offer for the hungry orangutans. This mimics the diet they would have in the wild. Although, it is carefully regulated to ensure that they don't become dependent on it for food.
As the recovering orangutans become more self-sufficient, their feeding is cut back.
During the feedings, the orangutans may play right next to the boardwalk. When I visited, one sat right in the middle of everyone, as per the photo above. It's an awesome experience to get to observe these magnificent creatures so close.
Next up, you can head to the outdoor nursery. Here, there are juvenile orangutans in the last stages of rehabilitation. They are usually 6 to 9 years old and are playing and learning skills for their release, like how to swing. Early morning is the best time to visit here as they get sleepy as the day progresses.
This is a really cool area, and there's often many orangutans here (as well as possibly some macaque monkeys trying to steal their food!).
It's best to visit for the feeding times as this is your best chance to see an orangutan. It's worth noting that it's not guaranteed to see one and, while there is currently around a hundred orangutans living around here, only a few may turn up for the feeding. In the fruiting season (June to August) when there is a lot of fruit in the forest, none may appear.
On my most recent visit, only one orangutan was there and it was quickly scared off by a gang of macaque monkeys! The first time I came, there were many though, so you just don't know.
Feeding times generally last 30 to 50 minutes.
Opening hours are 9am-12pm, 2-4pm, but note that the ticketing counter is open 9-11am and 2-3:30pm. Entry tickets are RM30/15 for foreigners, and there is also a camera fee of RM10.
Address: W.D.T. 200, Sabah Wildlife Department, Jalan Sepilok, Sepilok, 90000 Sandakan, Sabah, Malaysia
If you would like to visit here on a tour, you can find tours for this attraction by clicking here.
See Sun Bears At Bornean Sun Bear Conservation Center
If you're interested in learning more about sun bears, the smallest bears in the world, head to the Bornean Sun Bear Conservation Centre. This great place is right next to the Sepilok Orangutan Rehabilitation Centre so it's easy to visit both together.
The Bornean Sun Bear Conservation Centre (BSBCC) takes in ex-captive rescued sun bears. It helps these bears learn how to climb, build nests, forage for food and socialise so that they can be returned to the wild. At the time of publishing, there were 42 bears in this centre. All were ex-captives that had been rescued.
Sun bears are named after the golden patch on their neck with every bear having its own unique pattern. At this centre, there is a large forest enclosure where the sun bears can train and recover so that they can be released back into the wild.
For visitors, there are elevated walkways around the centre and viewing platforms. From here, you can watch the bears climb trees, dig for termites or simply lay around. There are telescopes available for a closer look or to see other features of the flora and fauna.
When I was there, I saw four different sun bears, relatively close including one climbing a tree! It was very cool.
The on-site gift shop has an educational video on the centre and the work it does which is also worth a watch.
It doesn't take long to visit here so it's the perfect add-on to your orangutan visit.
Opening hours are currently 9am to 3:30pm daily with the entry cost being RM50/25 for foreigners (kids prices are for 2 – 17 year olds) and RM10/5 for Malaysians.
Address: PPM 219, Elopura, 90000 Sandakan, Sabah, Malaysia
You can read our full guide to visiting Bornean Sun Bear Conservation Center here.
Get Close To Nature At Sandakan Rainforest Discovery Centre (RDC)
The Sandakan Rainforest Discovery Centre (actually located in Sepilok) is a great Sepilok attraction that's well worth your time if you are looking for places to visit in Sepilok. This centre boasts a 25-metre tall steel canopy walkway that allows visitors to explore the rainforest from high up, with breathtaking panoramic views. It's great for spotting exotic birds and animals.
It's also just fun to walk along and explore. It felt like it went on forever when I walked this. Along the way, there are even higher platforms to walk up for even bigger views. Some of the trees here are crazy tall, and there's no better way to appreciate this than from up on the canopy walk.
Sabah's local region is home to some of the rarest flora and fauna species, many of which are difficult to spot in the jungle. But at the Plant Discovery Garden within the Rainforest Discovery Centre, you can easily find all of them. This makes it a must-visit spot for any botanist or naturalist.
The information centre at the RDC also offers exhibits on the local rainforest, while the lake is a pretty spot to sit and take it all in. Make sure you don't miss the suspension bridge over it.
In addition to this, there are some well marked trails so you can explore the area. Along the trails, as well as on the canopy walkway, there are many information boards to learn more about the rainforest and its inhabitants.
However, the highlight of the centre is the Night Walk. This guided tour starts at 6pm and is the only time when you can spot creatures such as flying squirrels, mouse deer, slow loris and vipers. It's an intriguing activity that's sure to be a memorable experience.
The Sandakan Rainforest Discovery Centre is close to the Orangutan and Sun Bear Centres so you can easily visit them all on a day trip. It's best visited first thing or after 4pm when the animals become more active outside the heat of the day.
The opening hours are 8am to 5pm as well as some evenings for the night walk. The entry price is RM20/10 for foreigners and RM7/3 for Malaysians.
I was surprised how much I enjoyed this place. I recommend dedicating a couple of hours to exploring and learning here. Longer, if you love this type of activity.
Address: Jalan Fabia, Sepilok, 90715 Sandakan, Sabah, Malaysia
Read our full guide to the Rainforest Discovery Centre here.
Be Amazed By The Monkeys At Labuk Bay Proboscis Monkey Sanctuary
With their long, bulbous noses, proboscis monkeys are easily distinguishable from other primates. These peculiar creatures can only be found in the wild on the island of Borneo.
The region surrounding Sandakan, with its mixture of mangroves and lowland forests, provides the perfect habitat for these monkeys. They prefer to live near large rivers or freshwater streams and can often be heard making loud, distinctive calls.
If you want an up close experience with these unique primates, head over to the Labuk Bay Proboscis Monkey Sanctuary. This private reserve, created by a local palm plantation owner, features two feeding platforms set nearly a kilometer apart. During feeding times, which occur four times a day, you can spot over a dozen monkeys easily.
In fact, when I visited, there were dozens. It was amazing!
As I walked to the viewing platform, about ten minutes before feeding time, they all surrounded me getting ready to eat. They weren't scared at all, and it was possible to get quite close to these awesome creatures.
Sadly, the reason why you can have such a great experience here isn't a happy one. The surrounding palm plantations have destroyed much of the monkeys' natural habitat, leaving this sanctuary as one of their few remaining homes.
Since the reserve isn't large enough to provide enough food for all the monkeys that live here, the feeding sessions ensure their survival.
Visitors can walk along the wooden boardwalks to reach the feeding platforms, keeping an eye out for not only the proboscis monkeys, but also silver-leaf monkeys, oriental pied hornbills and other wildlife.
A visit to the Labuk Bay Proboscis Monkey Sanctuary is a must-do for anyone interested in the unique wildlife of Borneo, and it's definitely one of the most interesting places to visit in Sepilok. It's one of my personal favourite places in Sabah. These monkeys are crazy endearing when you get to watch them so close.
Opening hours are 8:30am to 5:30pm daily with entry tickets costing RM60/30 for foreigners and RM15/5 for Malaysians. Child tickets are for kids under 12.
Address: Off, Jalan Labuk, 90000 Sandakan, Sabah, Malaysia
Click here to read our full guide to visiting Labuk Bay.
Pay Your Respects At Sandakan Memorial Park
Sandakan Memorial Park, located on the former site of a prisoner of war camp, is a serene and well-maintained park dedicated to commemorating the brave people who fought during World War II. The park is particularly dedicated to honoring the 2,400 Australian and British soldiers who lost their lives during the notorious Sandakan Death Marches.
This peaceful park provides a great opportunity for visitors to reflect and pay their respects to the fallen heroes of war. The shaded pathways are perfect for a quiet afternoon stroll, allowing visitors to take in the displays and learn more about the Sandakan Death Marches and the city's war history.
One of the unique features of the Sandakan Memorial Park is the free app, "Sandakan Memorial Park" which provides visitors with comprehensive information about each display. The app also includes written interviews with Russ Ewin, one of the last standing survivors, who shares his firsthand account of the heroic days in Sandakan.
The Sandakan Memorial Park serves as a poignant reminder of the atrocities of war, and honors the bravery and sacrifices made by those who fought for their country. A visit to the park is an opportunity to pay tribute to the fallen heroes, and to reflect on the importance of peace and unity.
Address: 90702, Jalan Labuk, 90000 Sandakan, Sabah, Malaysia
Take A Sandakan City Tour
If you want to explore nearby Sandakan while you are in Sepilok, the easiest and best way is by joining a half-day tour. This way, you can learn the fascinating history of the city and immerse yourself in its culture when you don't have much time to spare.
The tour will start with a visit to Sandakan Memorial Park, located next to the original site of a POW camp. The park is dedicated to commemorating the Australian and British soldiers who lived and died in the camp during the war.
From there, the tour will take you to Puu Jih Shih Buddhist Temple, the largest Chinese temple in the city, and St Michael's Church, a stunning centuries-old stone structure. Your knowledgeable guide will share interesting stories about each location and take you to local markets to explore and bargain for some fresh produce and seafood.
Overall, this half-day tour offers a unique opportunity to gain a deeper understanding of the history and cultural diversity of Sandakan. It's a great way to explore the town and make the most of your time in this area.
You can buy discounted tickets for this tour by clicking here.
You can also find more fabulous tours around Sandakan here.
Eat Seafood At Sim Sim Water Village
If you're interested in experiencing the rich culinary culture of this area and happy to swap the jungle for the coast for a meal, a visit to the Buli Sim Sim Water Village is a must. This village is a cluster of Malay houses built on stilts over the water, connected by numerous bridges that divide the houses into various zones, each filled with eateries and shops.
At Buli Sim Sim, you'll find a plethora of local delicacies ranging from spring noodles and century egg dumplings for an afternoon snack to full-on seafood feasts prepared with locally caught fresh tiger prawns, snappers, giant oysters, clams, and more. The vast array of food options available means that you'll want to visit the village multiple times during your stay.
In addition to the incredible food, the Buli Sim Sim Water Village offers beautiful sea views and a refreshing breeze, making it the perfect spot to relax and indulge in a satisfying meal.
Stay Overnight At Selingan Turtle Island
If you're looking for a unique marine-life experience, a visit to Selingan Turtle Island off the coast of Sandakan is a must-do. The island is part of a conservation project aimed at protecting the nesting sites of green and hawksbill turtles in the Sabah National Park. Although the conservation project covers three islands in the Sulu Sea, only Selingan Island is open to visitors.
A trip to Turtle Island offers a chance to see these amazing creatures in their natural habitat. Visitors may witness a turtle laying eggs and watch baby hatchlings being released into the sea.
Getting to the island involves an hour-long boat ride from Sandakan, but the journey is worth it. Once there, you'll find basic air-conditioned accommodation for your overnight stay, as well as a beautiful white-sand beach and crystal clear waters for snorkeling.
You get most of the day to enjoy the island, swim and snorkel. It's a beautiful spot that I thoroughly enjoyed hanging out on.
However, the highlight of the tour is definitely the turtle activities which take place after dark. Watching these creatures come ashore to lay their eggs is a truly unforgettable experience. With only 40 visitors allowed on the island each day, it's important to book ahead of time to secure your spot.
I was able to watch a turtle lay 104 eggs! We then watched the rangers re-home them in the turtle hatchery before watching rhe release of the turtles who hatched that day back into the sea.
It's a totally amazing experience that's well worth your time.
You can get discounted rates for this by clicking here or click here to read our full guide to visiting Turtle Island.
See The Amazing Wildlife At Kinabatangan River
The Kinabatangan River, which stretches 560 kilometres, is one of Sandakan's most treasured natural wonders. As the second longest river in Malaysia, it boasts a unique ecosystem that sustains a diverse range of wildlife.
A trip to the Kinabatangan River is a must-do on any Sandakan itinerary, as it offers incredible opportunities to view a variety of animals along its banks.
As you cruise along the calm waters, keep an eye out for pygmy elephants, crocodiles, primates such as macaques, gibbons, orangutans and proboscis monkeys, as well as a diverse range of bird species like kingfishers, hornbills, storks, and hawk-eagles.
There are cruises every morning, late afternoon and evening with different animals likely to be visible at different times. It's truly a fantastic experience gliding along the water spotting animals in their natural habitat.
To experience even more, take a night safari cruise with a guide who can help identify nocturnal species hidden in the forest.
As the Kinabatangan river cruises are a couple of hours' drive from Sandakan, it is recommended to plan at least an overnight tour (longer is better) to fully explore the area and take multiple cruises at different times of day when various animals are visible. However, if time is a constraint, day tours are also available.
Click here to book a tour now or click here for our full guide to Kinabatangan river cruises.
Best Things To Do In Sepilok Map
Best Place To Stay In Sepilok
When it comes to where to stay in Sepilok, there is a small but great range of hotels around the main attractions usually surrounded by the rainforest. I find this a much nicer area to stay than in Sandakan, but you are a little more isolated so it depends what you prefer.
Below I've listed a few different places to consider including a budget, midrange and more expensive option.
If would like to consider staying in nearby Sandakan instead where this is more action, click here for our list of best hotels in Sandakan.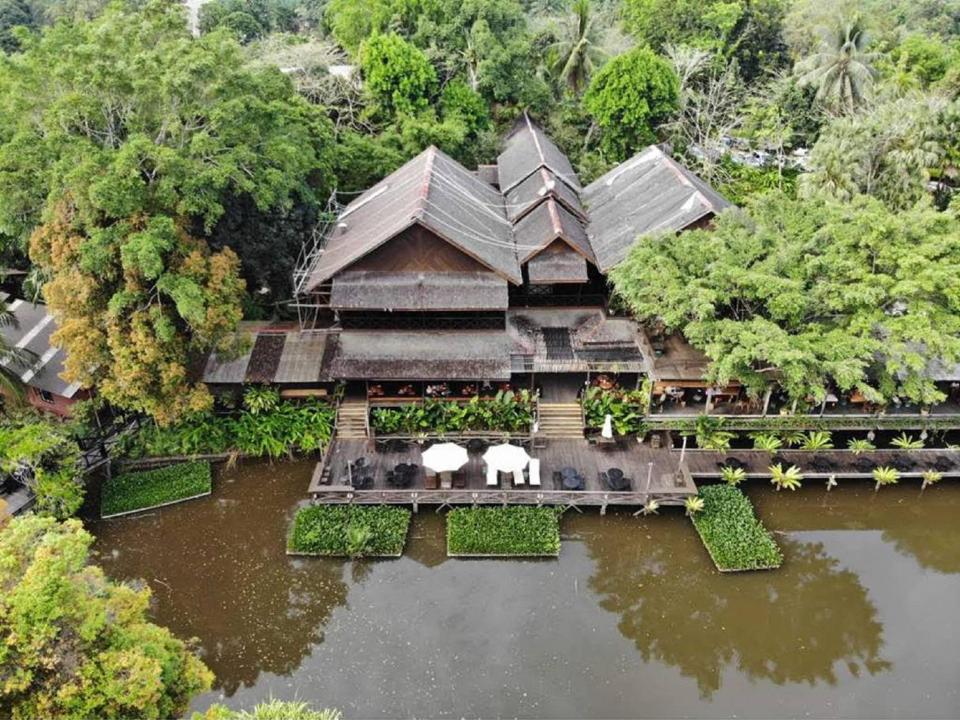 The Sepilok Nature Resort is a gorgeous place to stay just a short walk from the major attractions in Sepilok including the orangutans, sun bears and the Rainforest Discovery Centre. This makes it a convenient place to stay if you want to be able to return to the Sepilok Orangutan Rehabilitation Centre for each feeding and do the night walk at the RDC.
You won't find pools or tons of facilities here, but this is the top-rated hotel in Sepilok for a reason.
Firstly, its location in the rainforest and around waterways is just amazing. You'll really feel like you are in Borneo!
There are double and twin rooms available which are cute little wooden villas with private bathrooms, air-conditioning, tea and coffee making facilities, fans and a desk.
There's a tour desk, free wifi and a restaurant on-site.
Click here for the latest prices.
The Sepilok Forest Edge Resort is also located in a rainforest location with two lakes and is a great place to stay for beautiful surrounds.
While not as close to the main attractions in Sepilok as the last hotel, it is only a kilometre away from the sun bears and orangutans, and you won't care when you enter these beautiful grounds.
There is a great range of room types here with dorm beds for budget travellers and wooden chalets for privacy and comfort. Many of the chalets have both indoor and outdoor showers while others have a jacuzzi. There's also a two bedroom option for families.
All chalets come with tea and coffee making facilities, bottled water, air-conditioning, fans and a television. Some chalets are showing their age so pick an upgraded one for the best experience. However, I stayed in the cheapest chalet option, and I still loved it!
If you want something even more special, there is a two bedroom glamping tent for up to four people which has its own plunge pool.
There's a range of facilities on-site including a plunge pool, parking and a tour desk. I was able to arrange a taxi in advance of staying here with the resort to pick me up at the airport and take me to some attractions before check-in for a great price.
The service here is also top rate and the on-site restaurant serves delicious food. I loved my stay here.
Click here for the latest prices or read my full review here.
Sepilok Jungle Resort is located right next to the beautiful rainforest, as its name suggests. Its great location allows you to enjoy the beautiful natural surroundings, and the Sepilok Orangutan Rehabilitation Centre is just a short walk away.
The rooms at Sepilok Jungle Resort are on the small side and there is a choice of two single beds or a queen bed. The cheaper rooms only have fan cooling, while the more expensive ones offer air-conditioning, tea and coffee making facilities, TV, and a private balcony. The dorm rooms are basic but do the job.
Some room rates include breakfast, or you can purchase it on-site. The Banana Café & Restaurant offers Western and Malaysian cuisine at other times.
The resort features a beautiful outdoor pool with seating options nestled in lush gardens. You can enjoy the free internet access or visit the tour desk for assistance.
Keep an eye out for the diverse bird species, including hornbills, if you are interested in birdwatching.
Click here for the latest prices.
How To Get To Sepilok
A journey to Sepilok usually entails getting to Sandakan first. In Sandakan, there is a major bus station and airport.
If you need to take a bus, click here for the latest timetables and bus prices.
You can find flight prices here.
Sepilok is only about 25-minutes drive from Sandakan Airport or 35-minutes from the centre of Sandakan. A taxi is the easiest way to get around. Using the Grab App is the best way to access one.
There are also public buses from Sandakan.
You can take a public bus from Sandakan to Sepilok. Look for one that says "Batu 14" which means it will drop you off on the main highway at the turn off to Sepilok. Buses depart from the Terminal Bas Sandakan on Jalan Pryer.
Sepilok With Kids
Sepilok is a fabulous place to visit with kids. It's full of adventures which are generally family friendly. It's an amazing opportunity for kids to get to see wildlife up close.
The hotels around Sepilok can be great for kids too with more opportunities to explore the rainforest.
Final Words
Sepilok is a great place to visit. It's easily accessible and has some great attractions for anyone interested in wildlife and nature. In fact, I think it may be the best place to visit in Malaysia for accessible natural experiences thanks to the nearby airport.
I have absolutely loved the experiences on this list especially ones like Labuk Bay, Turtle Island and Kinabatangan RIver. It's worth spending some time here and really soaking it all in.
I hope you enjoy Sepilok as much as I have.
If you would like some more things to do around Sepilok, check out our guide to things to do in Sandakan here. You can also find more accommodation options for Sandakan here. Find all our Sandakan travel guides here.
Planning a trip to Malaysia? Have any questions? Join our Malaysia Travel Planning Facebook group here now! It's the perfect place to ask any questions and to be inspired!